At ProSono, we offer high-quality, properly aged mopane for bagpipes, from Great Highland bagpipes and gaitas to the biniou, as well as for Uilleann pipes.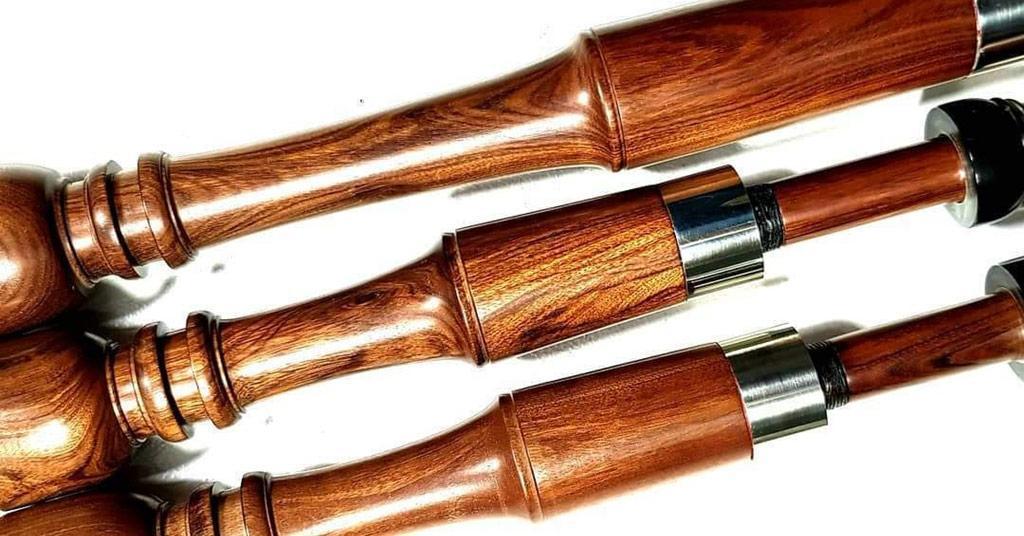 We're delighted that the use of mopane has gained so much momentum over the past decade. Worldwide, it is being embraced by instrument makers and musicians.
Below we cover:
The need for a sustainable alternative
African blackwood, or grenadilla, has been a prevailing standard for bagpipes.
As the availability of African blackwood continues to dwindle, this will have to change. It's increasingly clear that sustainable alternatives are a necessity.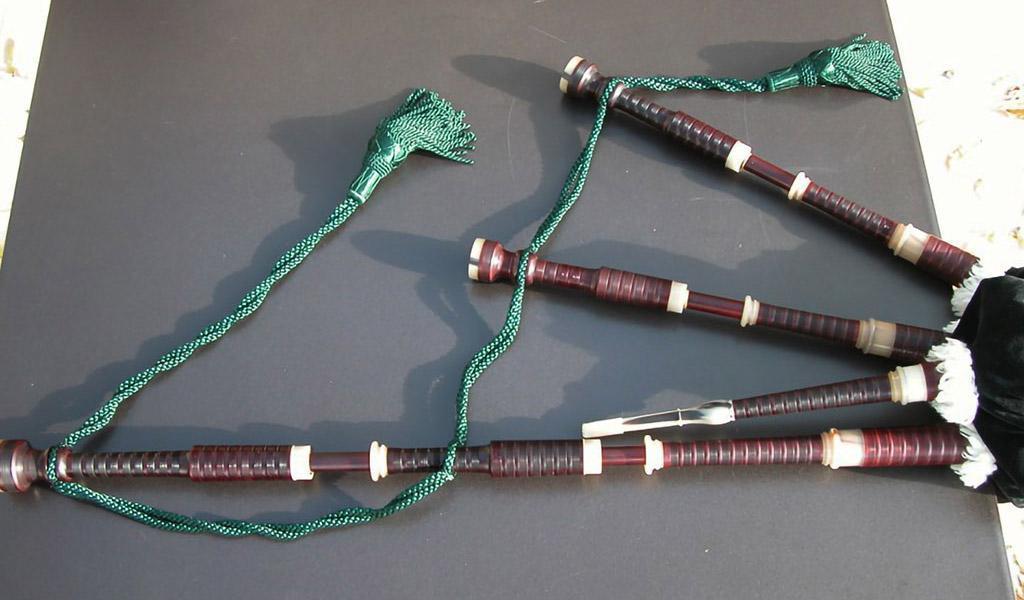 Mopane as tonewood for bagpipes
Underestimated in the past simply because it isn't black, mopane makes ideal tonewood for bagpipes.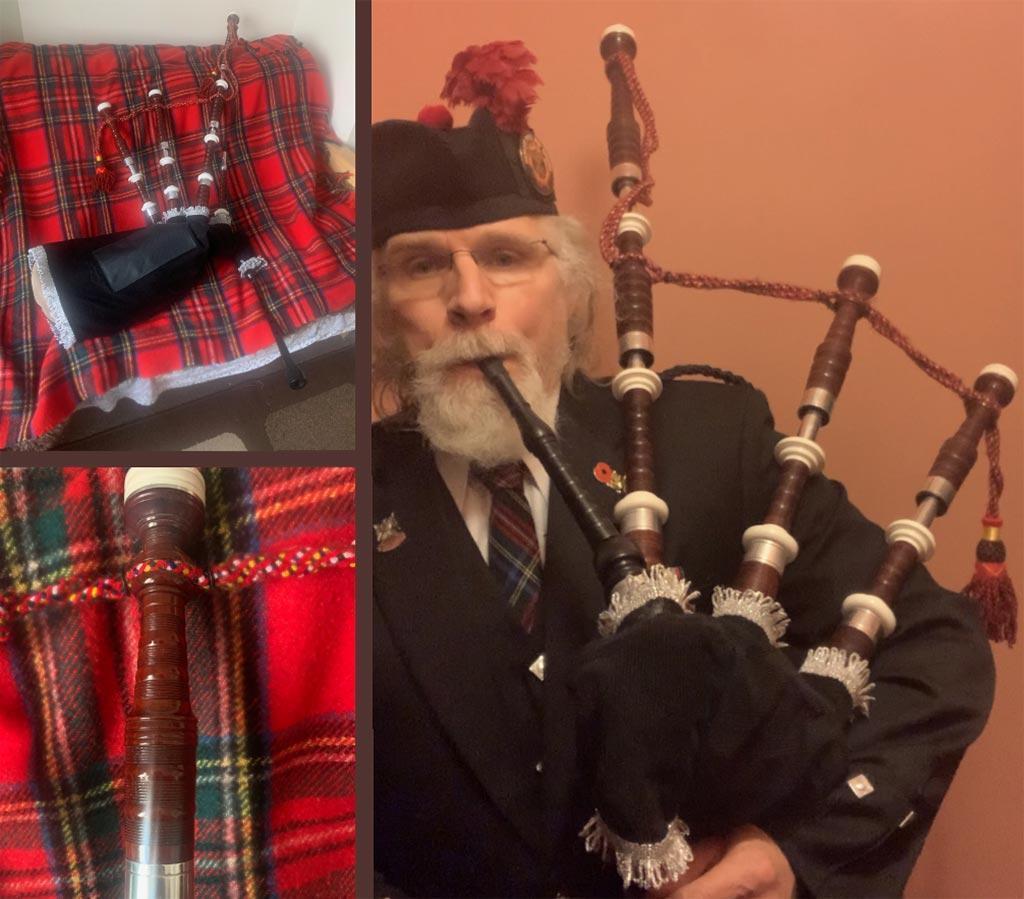 Mopane is a very dense, resilient African hardwood. It is a warm brown to reddish-brown colour; is extremely stable; and is less susceptible to splitting or cracking than African blackwood.
Most importantly, it offers outstanding musical tonal qualities – and unlike African blackwood, it is not listed by CITES as potentially endangered.
As noted in an article by Bagpipe Ecology, mopane is just very slightly lighter than cocobolo, as well as a little softer in tone than either cocobolo or African blackwood.
Mopane isn't just for Scottish bagpipes. A number of our customers also use our mopane hardwood to make other types of bagpipes and folk pipes.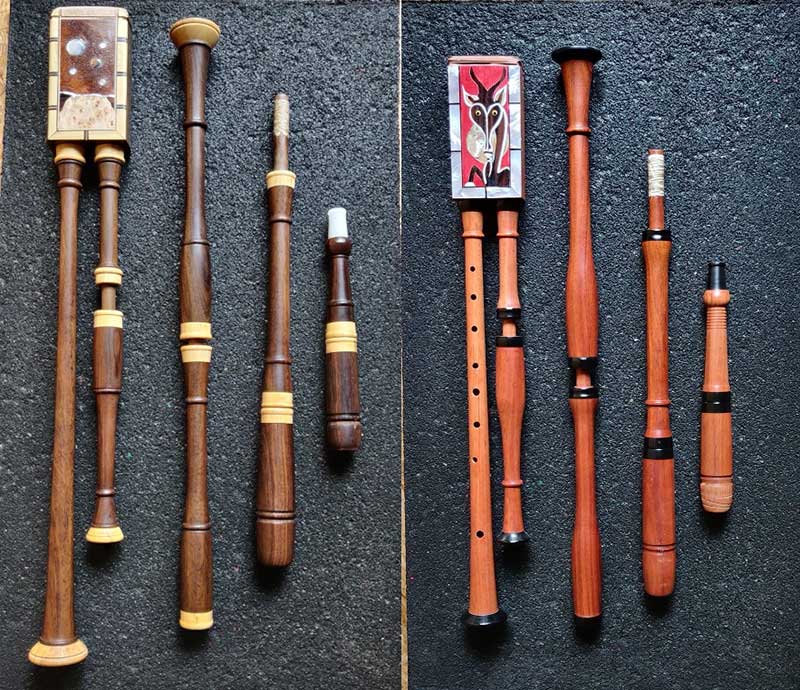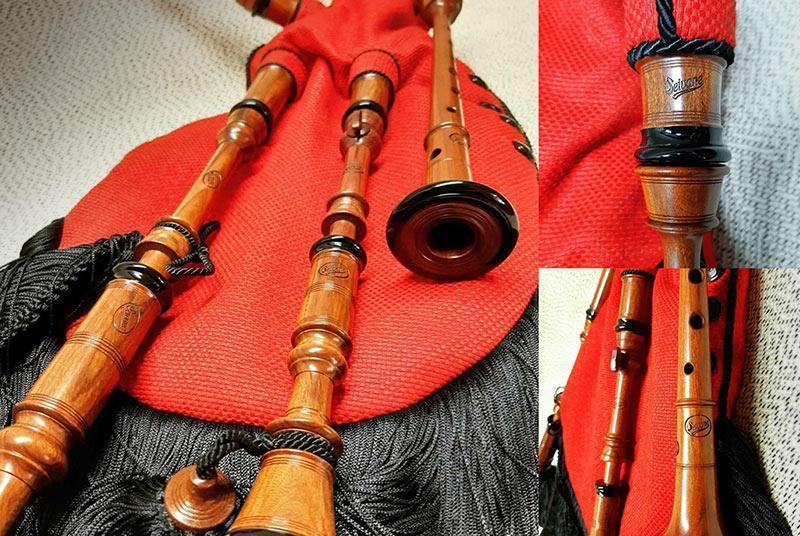 Mopane has rapidly gained popularity for other types of woodwind instruments too. For example, see our article on mopane for clarinets.
A quick aside about tradition and bagpipe colour
We still occasionally encounter the sentiment that to be authentic, bagpipes must be black.
Few instruments are as deeply associated with tradition as Scottish bagpipes.
Scottish bagpipes have been carried into battle and played to rousing effect over hundreds of years. The earliest textual evidence of this dates as far back as the 1300s.
However, it's worth noting that the use of black hardwood for bagpipes doesn't date further back than the 20th century.
According to The Bagpipe Place Museum, local woods, such as laburnum and holly, were originally used for bagpipes.
It was only with colonial expansion in the first part of the 20th century that dark woods like ebony, cocuswood and African blackwood became widely available to European instrument makers.
The modern bias against lighter-coloured woods has even driven some bagpipe manufacturers to stain their woods black.
Increasingly though, expertly crafted bagpipes in new materials – especially rich, brown mopane – are reshaping this attitude.
Bagpipe makers adopting mopane for bagpipes
A number of well-known and respected bagpipe makers have turned mopane bagpipes and/or currently offer mopane models of their instruments.
Gibson Bagpipes
We recommend having a listen to this video, from Jerry Gibson, the founder of Gibson Bagpipes. He talks about the issues affecting the availability of African blackwood and discusses substitutes.
In the video, Gibson declares mopane as their preference over any other wood they've tried as an African blackwood alternative.
The video also features a demo, comparing the sound of African blackwood and mopane bagpipes. The differences are subtle.
In the following informal demo, Patrick Martin plays a set of mopane bagpipes made by Gibson. The video quality isn't the greatest, but the clip showcases the good range and rich sound of the bagpipes (even played in a small room).
MacLellan Bagpipes
MacLellan Bagpipes has been producing beautiful bagpipes in mopane for many years.
They note that mopane drones are "bright and similar in character to the Blackwood sound".
Kilberry Bagpipes
Kilberry Bagpipes released its first mopane bagpipes in 2017.
The set of Kilberry mopane bagpipes pictured below features mopane drones with an African blackwood projecting mount. The bagpipes include the company's acetyl pipe chanter, a bannayne zip bag, Murray chanter reed and Murray synthetic drone reeds.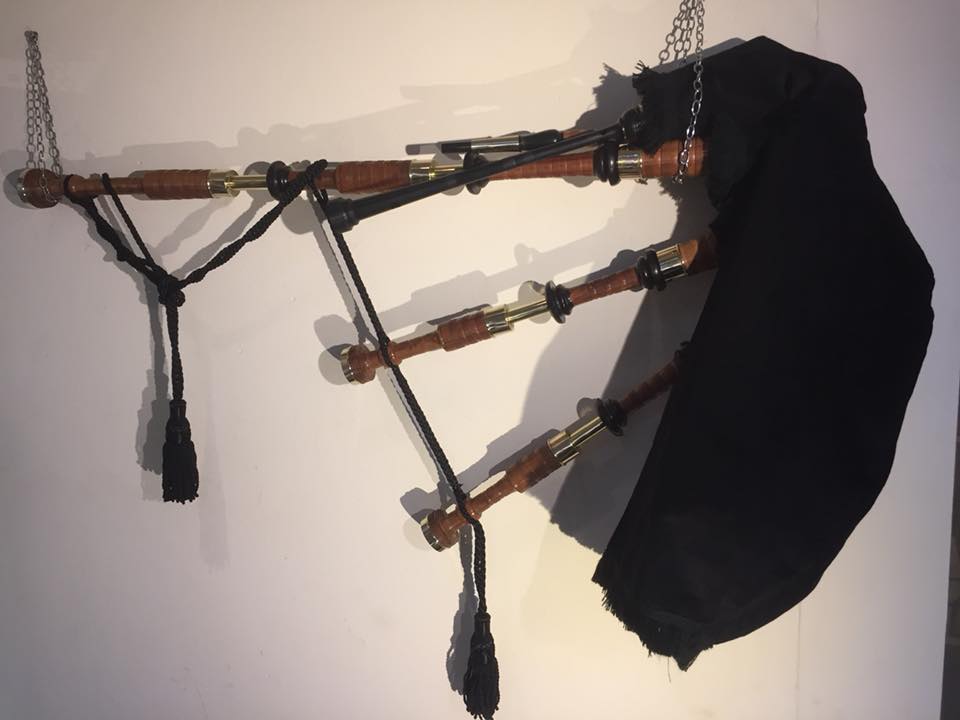 Enjoy the clip below, of Dougie Murray playing the Kilberry mopane bagpipes. They have excellent sound!
Stirling Bagpipes
Stirling Bagpipes offers full-size mopane Highland Bagpipes.
They note that, "mopane gives a sound quality similar to old cocuswood, which is soft and mellow, due to it being very slightly lighter than the typical African blackwood."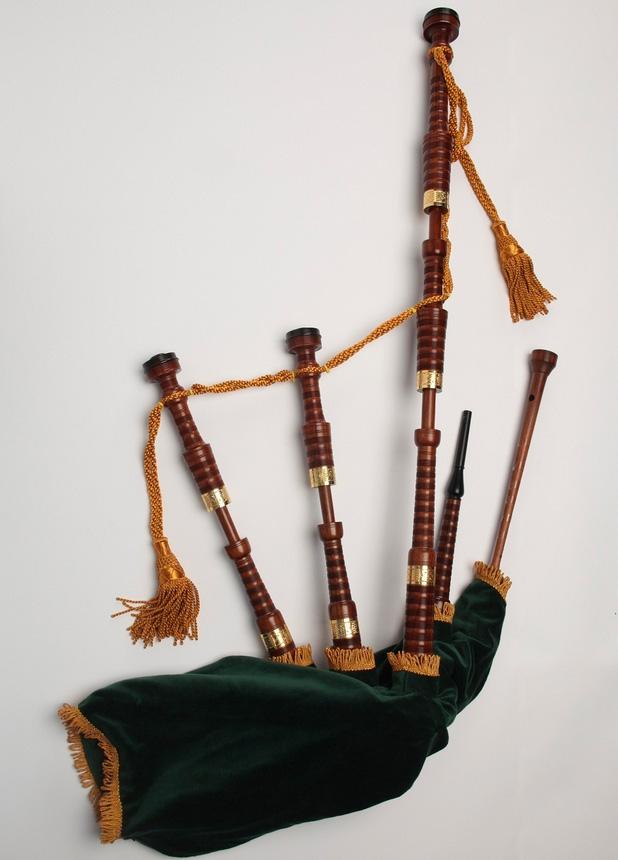 Nigel Richard's The Session Pipe
Nigel Richard, who sadly passed away in 2021, created the Session Pipe from mopane and boxwood. The instrument is similar to the Scottish Border Pipe but is inflated only by mouth rather than using a bellows.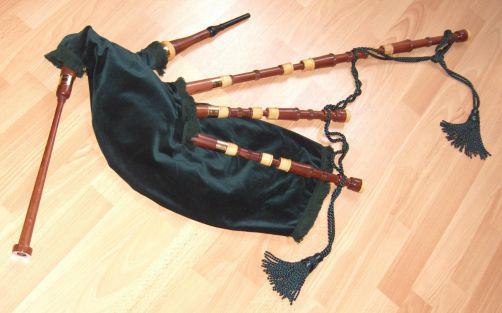 Use of mopane together with African blackwood for bagpipes
A number of leading manufacturers combine traditional African blackwood or cocobolo with mopane projecting mounts and ringcaps.
The contrast between the darker woods and slightly lighter mopane is very attractive.
For example, McCallum Bagpipes incorporates mopane projecting mounts and ringcaps in many of their bagpipes, including "deluxe" models.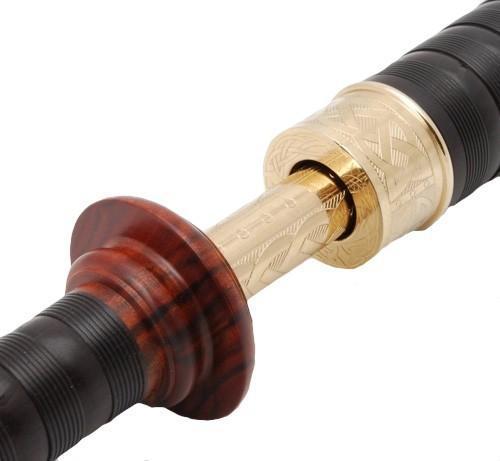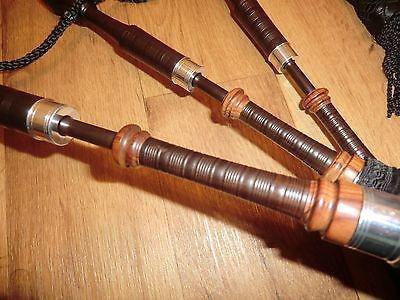 McCallum Bagpipes also incorporates mopane in folk pipes, like those shown below.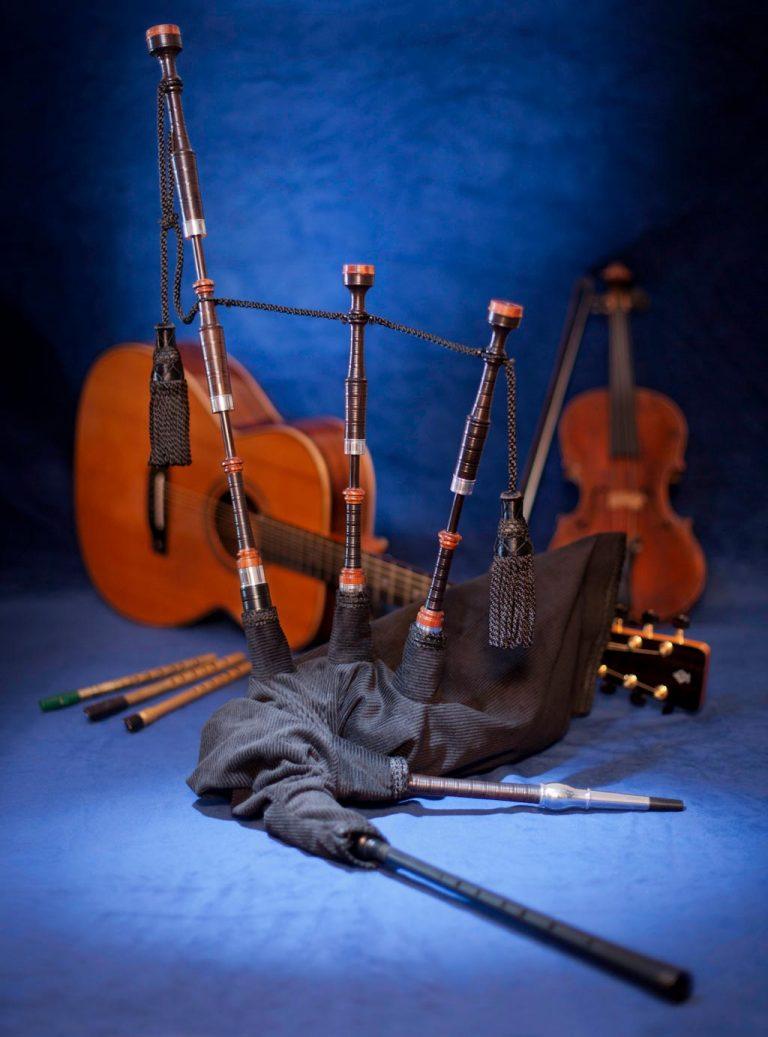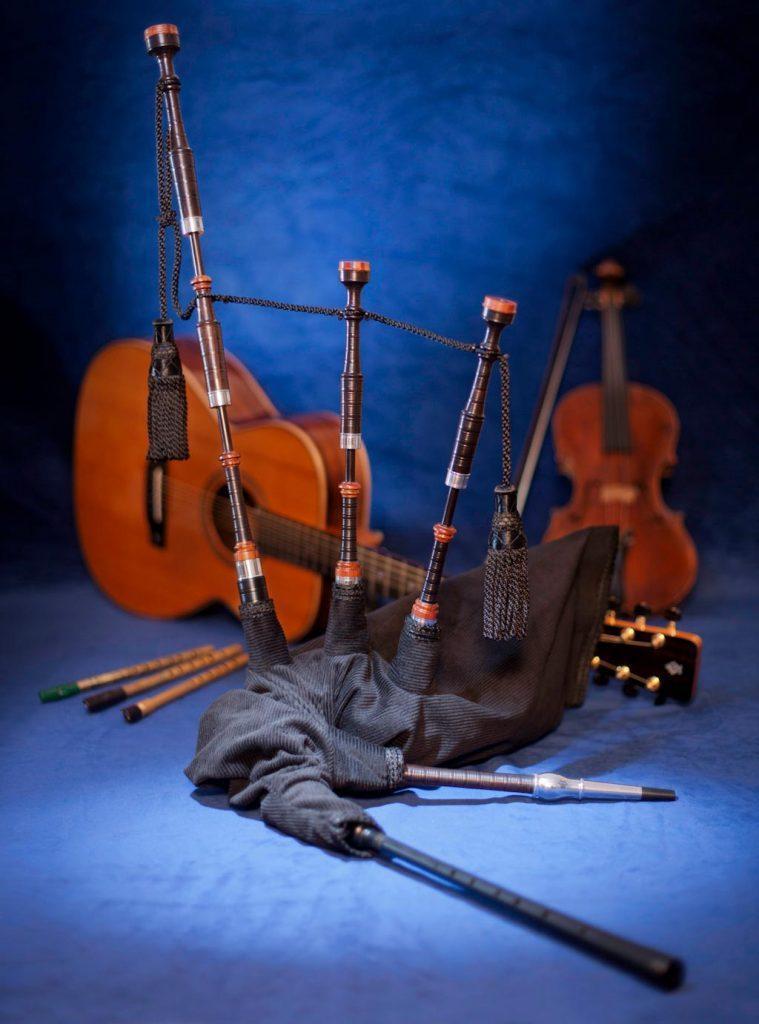 Mopane is also successfully used for chanters for Uilleann pipes. Here, for example, a player compares the different sounds produced by mopane and ebony chanters.
What we offer: high-quality, processed mopane for bagpipes
At ProSono, we offer meticulously selected, properly air-dried mopane, cut into sets for making Highland bagpipes (HBPs), gaitas, the biniou, English pipes or Uilleann pipes.
The complete HBP sets we currently have in stock have already been air dried for as long as six years, ensuring that they're properly seasoned.
For details of the dry parts we endeavour to keep in stock, please see the table on our Tonewood for Pipes and Bagpipes page.
We can also cut mopane – and African leadwood (the elegant wood) – to required size for other types of pipes.
Find out more about us (including what we stand for) on our site or contact us to order mopane for bagpipes or other instruments.