STUNNING PRESENTATION
BEAUTIFUL DESIGNS
Our lead product is the ebony from the pharaohs, either all black or with 25 to 100% sapwood as depicted hereafter.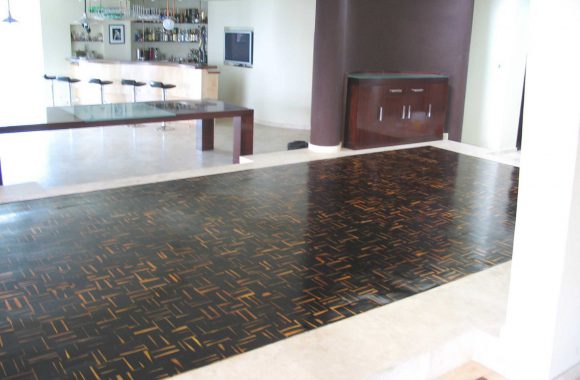 Ebony flooring with 100% sapwood – A large dining room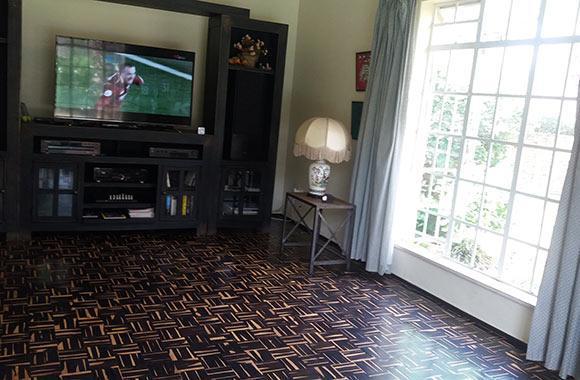 ebony with 60% sapwood – living room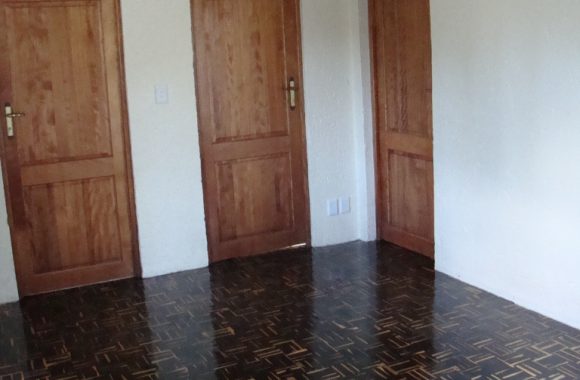 Ebony with 75% sapwood – A reception office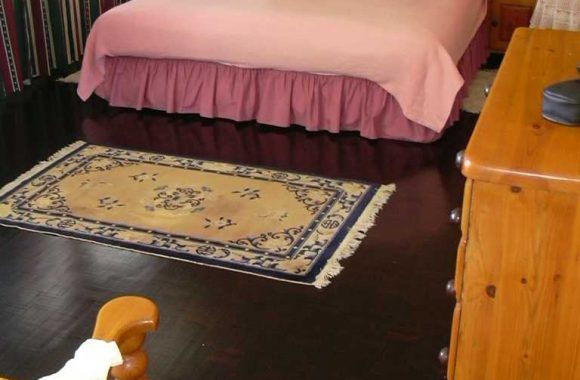 Ebony all black. Glossy finish.  – Bed room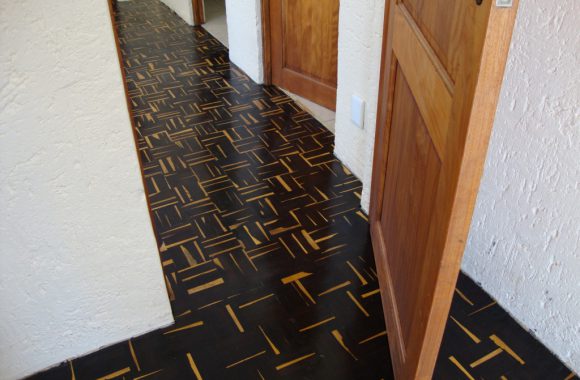 Contrast ebony with  – 25 % and 75% sapwood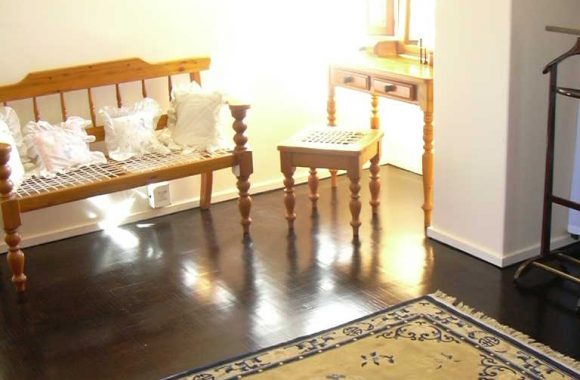 Ebony all black. Glossy finish.  – Dressing table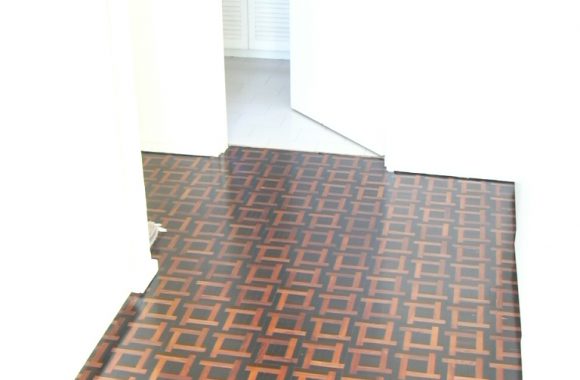 Haddon Hall motif of ebony and mopane. Dressing room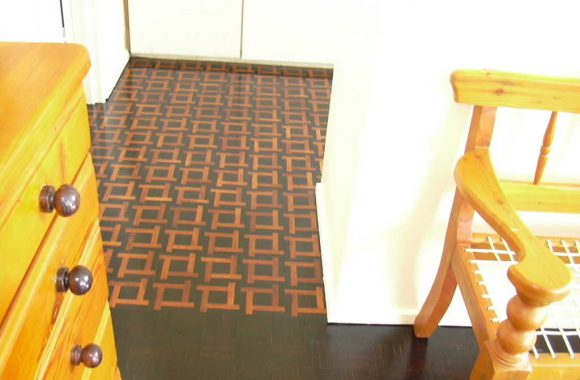 Ebony all black. Glossy finish.  – Chest of drawer and passage
If we were not selling substantial quantities of musical grade parts, we could never afford the manufacturing of flooring from the same precious woods. In our cost calculation the wood is actually for free, indeed the cost of the wood is entirely born by the musical instruments.
Our selected mosaic parquets have a superior appearance, greatest durability and a great value for money. They will enhance the value of your house.
Our solid wood floors are also available in mopane, red ivory and African cocobolo. Availability of these wood species is limited. Mopane and red ivory are often used for the production of parquet flooring design.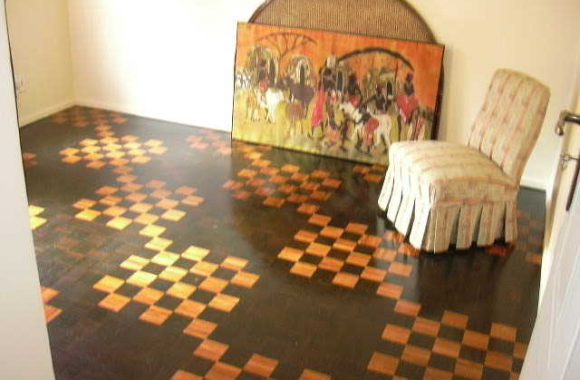 (Design floor – ebony and mopane – Music room)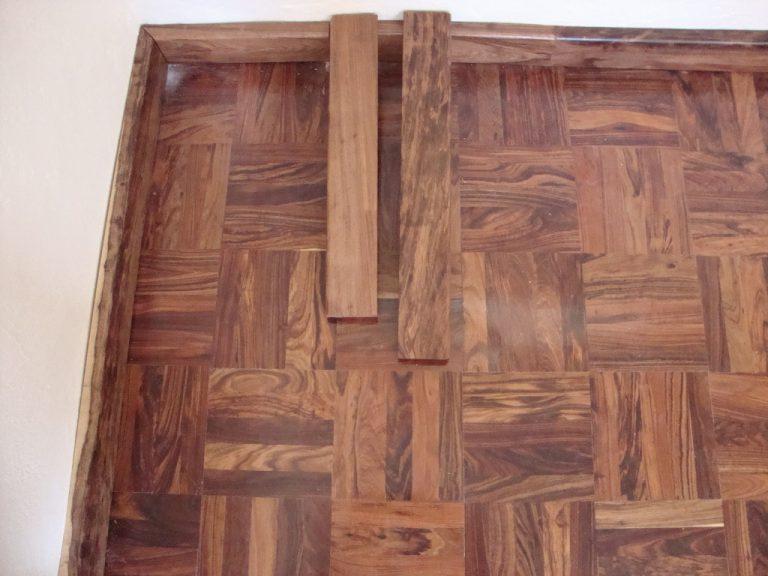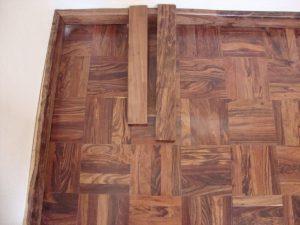 Rustic floor. Cocobolo africain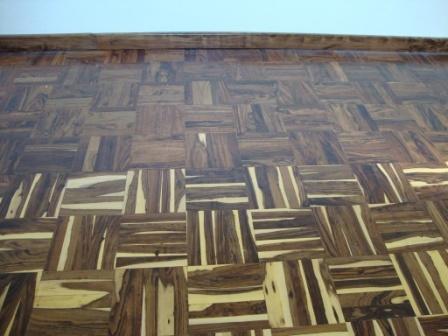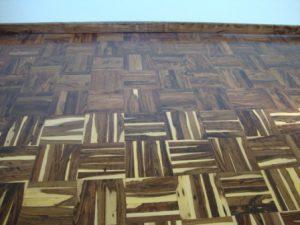 Rustic floor with and without sapwood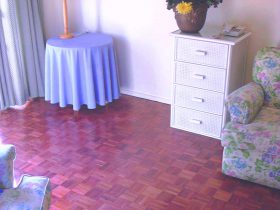 Mopane exotic floor. Original colour at time of installation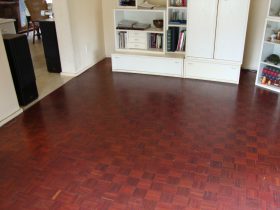 Same mopani floor, blood red, when fully oxidised
Exotic woods and design motives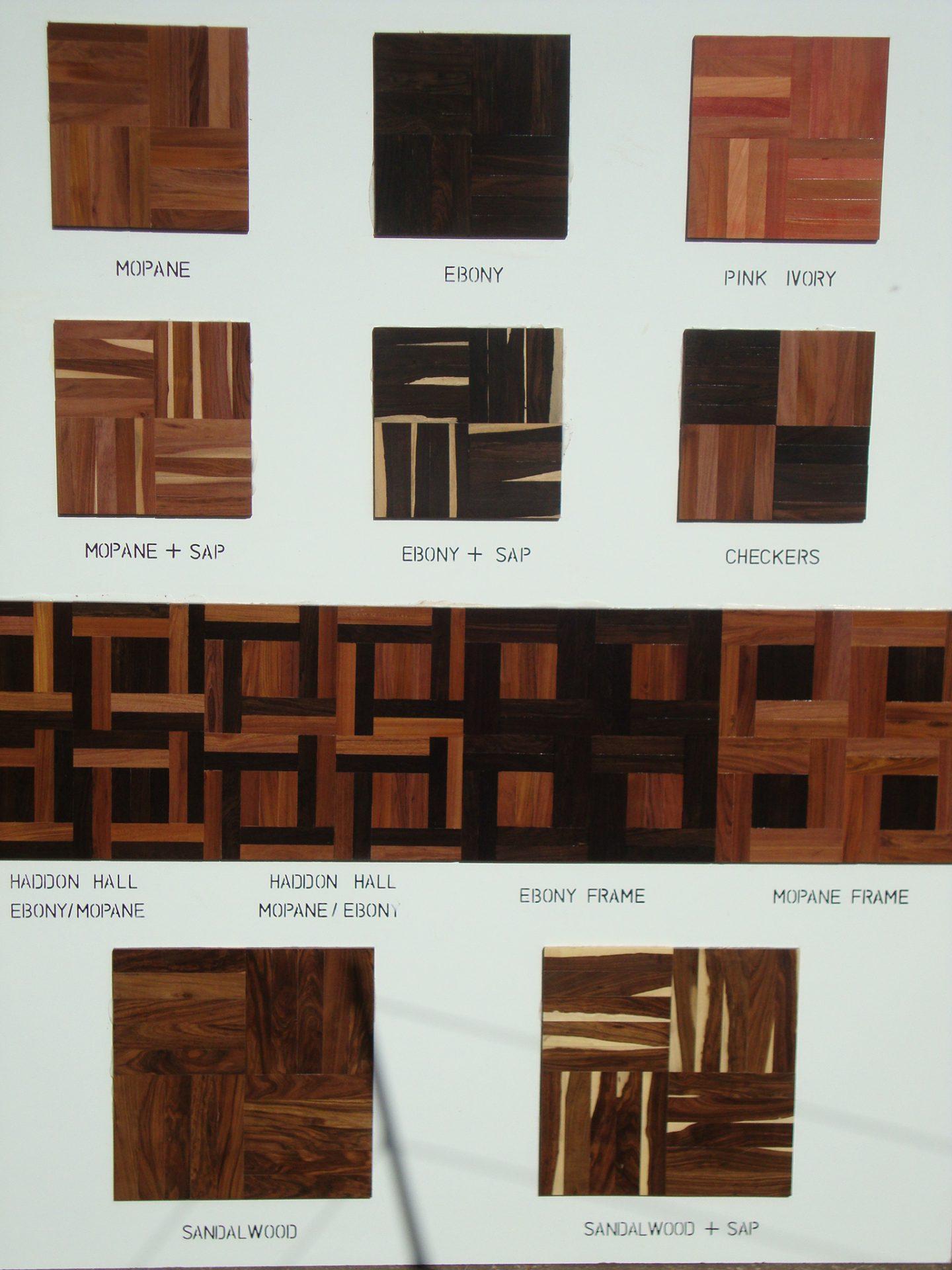 Three precious exotic woods and thirteen standard motives:
SPECIFICATIONS:
| | |
| --- | --- |
| Product names | Presentation |
| 1. MOPANE | Blood red when fully oxidised |
| 2. EBONY | Black with dark brown streaks |
| 3. RED IVORY | Distinctive rosé wine colour |
| 4. Mopane with sapwood | Red with light red from the sapwood |
| 5. Ebony with sapwood | Black with yellow streaks from the sap |
| 6. Small checkers, ebony and mopane | Combination of elegant black and red brown |
| 7. Haddon Hall  ebony/mopani/ebony | Alternate colours in zigzag |
| 8. Haddon Hall mopane/ebony/mopane | Alternate colours in zigzag |
| 9. Ebony frame | Alternate colours inner and outer squares |
| 10. Mopane frame | Alternate colours inner and outer squares |
| 11.African cocobolo | Rustic brown with distinctive pleasant wood smell |
| 12. African cocobolo with sapwood | Rustic brown with very distinctive yellow sapwood |
| 13. Herring bones | Alternate colours on the diagonal |
The parquet flooring is made of fingers that are perfectly planed and carefully assembled by hand. 3M removable adhesive paper is put on top of the assembled blocs. It is removed by the installer when the glue is dry. In this way one ensures the very best adhesion of the hardwood floor and the screed.
Our solid wood floor is made of 8 mm (5/16") thick hardwood, dried up to a 6-9% moisture content. We offer 6 and 5 fingers combinations, in tiles of 360x360mm, 300×300 / 280×280 / 250x250mm for ease of laying out. Tile sizes will depend on the motives or design floor selected.
Don't hesitate to contact us for your own design floor or logo.
Parquet floors made of exotic woods has a very high resistance to abrasion, it will last a lifetime, even in high traffic areas. For sure, if need be, our flooring, 8 mm in thickness can be sanded many times over.
For those living close by, our show-house is located in Fourways, North of Johannesburg. Please make arrangement for visitation.
Our Office number is (011) 516.02.52. Our cell number is (082) 652.07.47.
For more information contact us