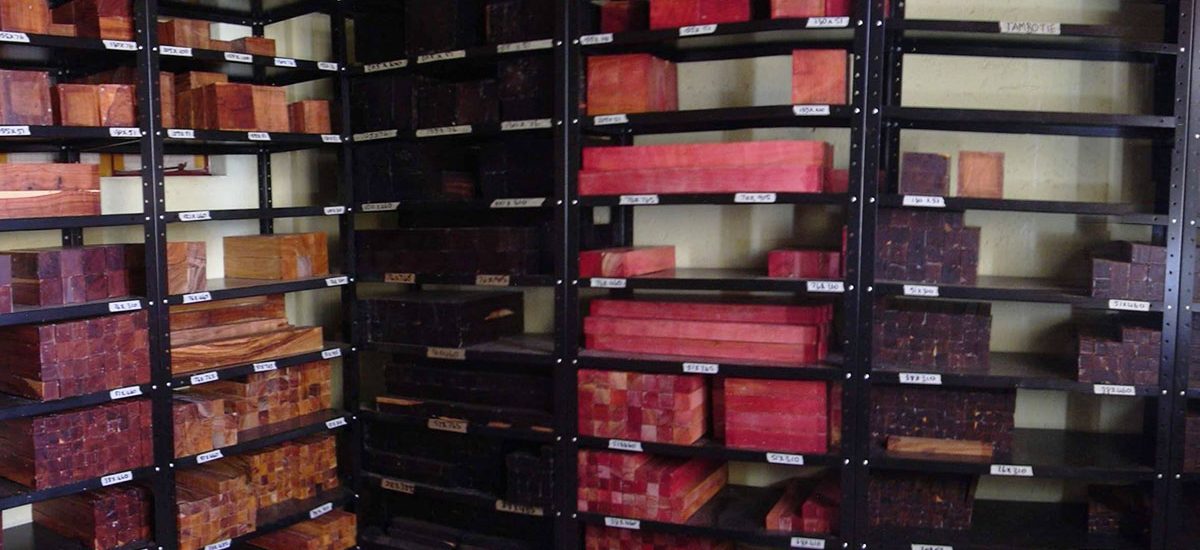 ProSono initial focus was to serve the makers of musical instruments worldwide.
Since a couple of years, we extended our activities to include the turners' fraternity and the production of beautiful solid flooring made of the same precious timbers.
With regard to musical instruments, we have been supplying more than fifty leading makers of woodwind and stringed instruments and innovators.
We take a two-pronged customer centric approach, attending International Trade Fairs and paying visit to our customers.
SELECTION OF TIMBER SPECIE
In selecting the best timber specie to meet our customer's requirements, we take into account the prevailing standards, as well as potential substitutes, based on their acoustic quality, stability, workability and aesthetic.
Craftsmen have long identified African Blackwood (dalbergia melanoxylon) for wind instruments and ebony (diospyros) for fingerboards and accessories of stringed instruments, as a standard for quality.
We have been promoting mopane (colophospermum) as an equivalent substitute to African Blackwood for woodwinds that has been listed on CITES 2 as an endangered species.
In term of acoustic, as rich, as powerful and a little bit warmer than the African Blackwood.
The rich and powerful sounds, similar to this wood, remembers the very much liked tonality of coccus wood, very much used in the past until its extinction.
In production, it is more stable, less prone to slits and cracks.
Commonly available as high-grade timber, it is therefore quite attractive in price.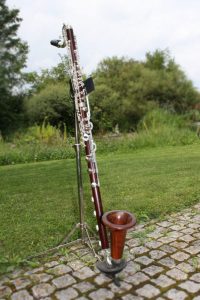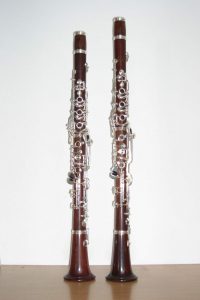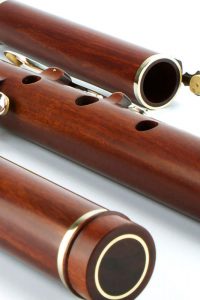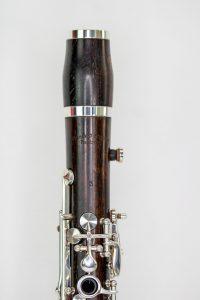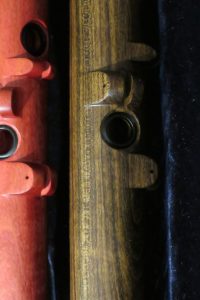 SELECTION OF SUPPLY REGIONS
The main factor for the selection of a supply region is the availability of quality timber in sufficient quantity. The logistics still plays an important role.
We have the advantage of the South African railways and trucks that ensure transport to Botswana, Zambia, Angola, Malawi, DRC, and Mozambique, at favourable rates, as return loads are rare and many apart.
Forestry under tropical conditions is taxing to men and machinery alike. This company relies therefore on a mix of joint-ventures and local operators to source quality logs.
ProSono is strategically located in Johannesburg; enabling within our Field Inspectors to reach their destination in a day trip! They will be living in the bush, training, selecting, checking and won't come back before timber is marked, cubicated and loaded into sealed containers. At ProSono, quality starts in the forestry and not just at the entrance of the factory!
Leading instrument makers have confessed, deploring as much as 50% rejects from sets of African Blackwood supplied by trusted and long-established suppliers!
This can undoubtedly be explained, by lack of field presence, lower quality timber being supplied, or sometimes first rate timber being mishandled, in field transport, in open-air-storage, in harbours, and during long distance sea transport!
In Africa the past is quickly forgotten, and every day is a new challenge to be met!
TRAINING OF SUPPLIERS' STAFF
Preference is given to operators with whom a stable supply relationship can be developed.
Every year our field staff members train our partners in selecting and cutting trees, transportation and protection techniques.
Special care is given to the selection of the correct trees from an ecological and economical stand-point.
Protection of the timber immediately after cutting and before transportation is part of our criteria of quality that is required by our field staff.
Our presence on the spot and qualified supervision is the only way by which consistency of results can be achieved.
SAW-MILL LOCATION
When selecting our saw mill location, we considered the following realities:
For export South Africa offers flexible and efficient logistics, the more so as most of our consignments are sent sea freight consolidated (LCY) to customers worldwide!
Most of our consignments reach our clients within six weeks time everywhere in the world!
The country offers quality industrial inputs, in machinery, maintenance, consumables water, electricity and qualified labour at competitive conditions.
Field-inspectors will reach their destination within a day trip, what is of paramount importance in terms of our presence on the spot and supervision required to achieve consistency in the supply of rare and precious timbers.
UNLOADING AND SORTING AT SAW MILL
At arrival the logs are cubicated to confirm field information and provide an accurate monitoring of the saw mill productivity.
The logs are graded in order to ensure availability of supply for the most demanding and valuable parts, like backs and sides of guitars, clarinet bells, bass clarinet large blanks or the contrabass and cello fingerboards.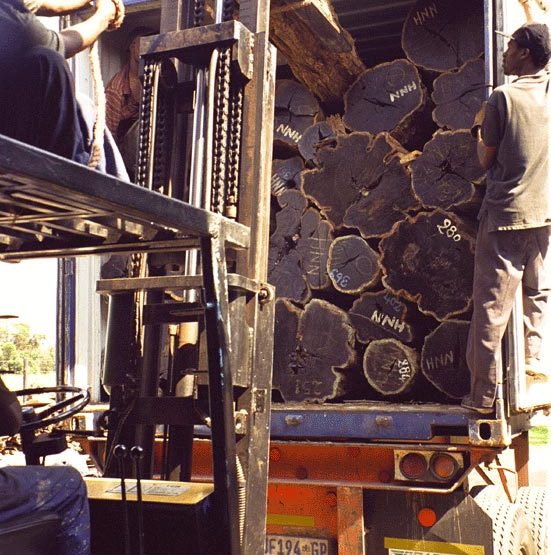 PROTECTION OF STORED LOGS
In-door storage, in a controlled area where hygrometry and temperature is stable the year around.
Our storage and factory windows are all equipped with UV filters. Logs are kept moist.
It is actually essential that before entering production timber has retained the highest possible moisture content.
Does differ from timber to timber and depends on the type of parts to be produced.
The main stages involved, include the selection of suited logs to the parts to be produced, the cutting of slabs on the horizontal band saws, their storage in moist conditions, ripping and cross cutting on panel saws and rip saws, grading, waxing and recording before storage.
PROCESSING OF WOOD FOR FINGERBOARD AND OPTIMISATION OF RECOVERY
Vertical band saws, and planer-thicknesser are used for fingerboard of stringed instruments and guitar back and sides, when the work-process fully differs from the one involved for parts for woodwind instruments.
PRODUCTION PLANNING AND FORECASTING
The holding of a minimum of nine month raw-material stock in log form, and the implementation of a three month production forecast is essential to guarantee plant utilisation and delivery according to schedule. The availability of large size premises is important for the success of the venture.
PROTECTION OF WORK IN PROGRESS AND FINISHED PRODUCTS
Precious timber will only keep its value if it is correctly handled and protected before, during and after processing!
A significant amount of know-how has been acquired in these matters. It goes from the adequate protection for work in progress and finished products, to the optimal mix for the protection wax.
By introducing a home-made work-process for cutting the bells of clarinets, we managed to reduce the percentage waste from more than 35% to less than 5%. A considerable difference, reflected in our pricing!
GRADING OF PRODUCTS BEFORE STORAGE
The production out-put is graded daily. The dark African Blackwood with little grain and the lighter brown with visible grain are separated before storage.
With regard to ebony three colour grades are distinguished, namely black, grey-black and grey-brown.
INSPECTION
Although it is a minority, we very much welcome the visit of our customers to inspect our factory and cargo.
They can check their consignment when it is sealed and collected in their presence. This way we can only learn from our customers specific requirements and develop a mutual understanding and confidence.
MOTIVATION OF STAFF MEMBERS
A reward system has been introduced with the saw-mill staff members, who receive an incentive bonus for the total and individual recovery of the most valuable parts. The supervisory staff is directly engaged in the production process, thus ensuring best results.
Each and every part is checked before dispatch, with regard to cracks that might have occurred during storage.
Special boxes have been developed for the packing of guitar backs and sides and for the Highland bagpipe sets. Each crate and box has a double isolation, to ensure optimal protection during transport. Crates are steel-strapped as a matter of course!
Most consignments are sent sea freight LCL (less than container loads) to customers worldwide! Most consignments reach our clients within six week-time anywhere in the world!
Johannesburg located at 1.600 meters enjoys a dry climate through-out the year, a prerequisite to achieve quality air drying.
Dedicated storage rooms have been created for the seasoning of timber, in line with the need of the instrument makers who require three to five seasoned tone woods to ensured quality instruments and leading brand names. Blanks are stored according to year of processing and grades.
With regards to storage of non-current parts, we would much like to be contacted by artisans who could advise us as how to manage this issue successfully.
Our policy is not to maximise pricing of each and every sets and order but to develop relationships that maximise benefits for both partners in term of quality and value created.
In this respect our position in South Africa offers a special benefit in term of proximity to the suppliers of quality timber, export incentive and competitively priced labour.
Long-lasting supply agreements are in place with several leading European and North American instruments makers.
Our prices depend on the size and the make up of the order, indeed we always factor in the recovery percentage that can be achieved by any given order. We are most competitive in our pricing when we supply a combination of small, medium and large blanks. Keep this in mind when placing your order.