With the listing of Dalbergia melanoxylon as an endangered species by CITES* our supplies of legalised wood is restricted and therefore significantly smaller than in the past. We shall endeavour to stock the most commonly used parts by instrument makers. It shall be difficult to keep stock of dried parts indeed we expect demand to exceed our capacity.
Powell Flute, a leading US flute maker has commented: 
"The very best African Blackwood we received since 1956, when we started to keep records!"
Leading instrument makers have confessed having had as much as 50% of parts rejected from African Blackwood sets, bought, however, from trusted and long-established suppliers! This can be explained by the lack of their field presence, the purchase of cheap timber, or the mishandling of first rate timber during field transport, in harbours, in open-air-storage, and during long distance sea transport!

In Africa the past is quickly forgotten, every day is a new challenge to overcome!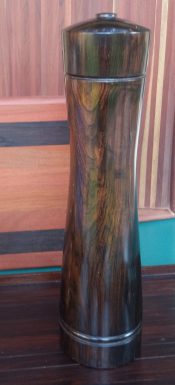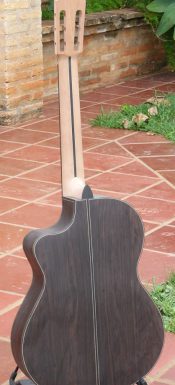 Selection of suppliers
Forestry operation under tropical conditions is taxing men and machinery alike. We do rely, year over, on a number of joint-ventures and local timber operators to source quality logs.
Training of suppliers' staff 
Preference is given to operators with whom a stable supply-relationship can be developed. Every year, our field staff members train the local staff of our suppliers for the selection and cutting of trees, the transportation and protection techniques. Special care is given to the selection of logs, from an ecological and economical stand-point. Protection of the timber, immediately after cutting and before transportation, is a very important task, carefully checked by our field supervisors.
Presence on the spot and supervision is the only way to achieve consistency of results!
In the factory, the operation is planned and checked up for best results and quality. All the parts are checked at the time of storage and again at the time of packing.
Quality concept
Customers, makers of woodwind instruments
Our musical grade parts are free of knots, sapwood, insect bites, discoloration, slits and cracks. We guarantee perfect air bubble free wax at both ends to prevent end cracks. Our parts are sawn with panel saws that guarantee mm precision on both ends of the parts.
We clearly distinguish between musical and turnery grade parts for which we have appointed national distributors. Many wood suppliers and most distributors stay totally quite about this essential difference and the artisans and many professionals get taken!
We may not be the cheapest but quality stands out. Our customers worldwide talk about ProSono's outstanding quality
The musical grade parts we endeavour to keep in stock
For woodwinds
Clarinet sets
Bells
85/85 x 45/45 x 125
Lower joint
36 x 36 x 320 or 36 x 36 x 285
Upper joint 
36 x 36 x 245 or 36 x 36 x 230
Barrel
51 x 51 x 80 or 47 x 47 x 80 or still 40 x 40 x 80
Bass Clarinets

47 x 47 x 760 and 47 x 47 x 460 or

47 x 47 x 700 and 47 x 47 x 550

Alto Clarinets
40 x 40 x 410
Oboes
Bells
65 x 65 x 150 or 60 X 60 x 140
Joints
40 x 40 x 285 or 36 x 36 x 270 or still 32 x 32 x 265
English horns
Bells
70 x 70 x 140
Joint
40 x 40 x 400
Flutes
33 x 33 x 380 or 33 x 33 x 330 or still 33 x 33 x 265

30 x 30 x 510 or 30 x 30 x 410 or still 30 x 30 x 325 and 30 x 30 x 300

28 x 28 x 400 or 28 x 28 x 285 or still 28 x 28 x 270

Piccolo
28 x 28 x 250 + 30 x 30 x 150
Highland bagpipes
(HBPs) 14 blanks of 11 different sizes, representing a total of 6.555 dm3

1 X 54 x 54 x 305 + 2 X 51 x 51 x 205 + 1 X 40 x 40 x 385 + 1 X 47 x 47 x 310 + 1 X 47 x 47 x 195 + 2 X 47 x 47 x 160 + 1 X 47 x 47 x 125 + 1 X 47 x 47 x 115 + 1 X 40 x 40 x 310 + 2 X 40 x 40 x 245 + 1 X 40 x 40 x 220

For the Uilleann pipes (Irish pipes) , English pipes, Gaitas (Spanish pipe), Bombarde (French pipe), the section on Folkloric instruments provides the exact dimensions.
For stringed instruments
Jumbo
Back: 2 X 560 x 210 x 5 + Sides: 2 X 830 x 130 x 4
Classic
Back: 2 X 530 x 190 x 5 + Sides: 2 X 760 x 110 x 4
Modern
Back: 4 X 530 x 95 x 5 + Sides: 2 X 760 x 110 x 4
| | |
| --- | --- |
| Botanical name | Dalbergia melanoxylon |
| Family | Leguminosae |
| Local name | Mpingo, Pau Preto |
| English name | African Blackwood |
| Distribution | The tree is widely spread within a triangle from Southern Sudan to Angola and the Transkei in South Africa. |
| The tree | It grows as a bush in most places and as a sizeable tree up-to 9 meters (30ft.) height and a diameter of 30 cm (12 in.) and larger, in only few regions. Experts relate this fact to the fauna, more than to the competition from the flora itself! |
| The wood | The heartwood is dark brown with black streaks. This colour usually predominates, so that the general effect is nearly black. The narrow sapwood is light yellow and clearly defined. The wood is exceptionally hard and heavy, of a density ab.1.35 t/m3, (79 lb. /cu. ft). The texture is fine and even. |
| Seasoning | It dries very slowly and tends to split in drying, especially in log form. The application of wax or paint, on both log ends, is advisable to minimizing splitting. |
| Workability | It is extremely hard to cut and process. The use of tungsten carbide tools is required. |
| Use | The timber is extremely hard and heavy, therefore of little common use locally. Makers of woodwind musical instruments prefer it to ebony, because of its fine tonal and acoustic features, stability and resistance to saliva. It is also recognised, because of its constant density, as the best timber for ornamentals and turnery of cues, walking sticks, bobbins, butts of sport weapons, cutlery, knives, technical items, pins, spindles, tools and drumsticks. |