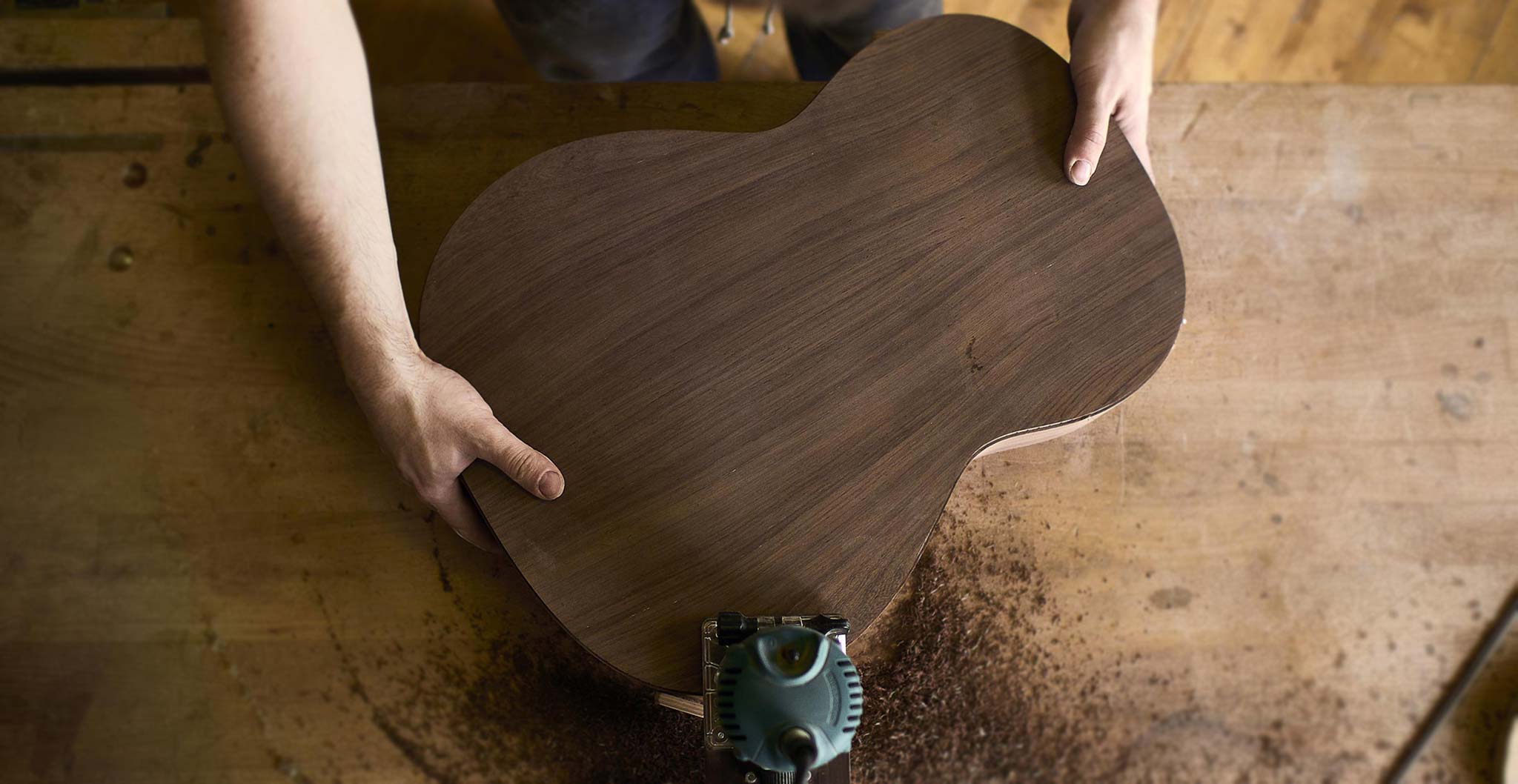 Tonewood for acoustic guitar makers
ProSono is a leading supplier of high-quality tonewood for guitars, as well as other string instruments such as ukuleles and lutes.
We offer:
Our musical-grade hardwood is selected and processed with great care, before being cut to required dimensions. A well-known but often overlooked fact: the first condition for making a quality acoustic guitar is perfectly dry tone wood!
Find out more about how we dry our tonewood below. Also read about the African hardwood species we recommend for guitar.
Please note that because of the high weight of our hardwoods, none of our tonewood is suitable for electric guitars.
"I have received the pink ivory jumbo set. It is beautiful and your packaging is top-notch. I appreciate your service and look forward to doing more business with you again in the future."
~ John Mayes – Luthier, Mayes Guitars
GUITAR SETS 

Minimum dimensions in mm

Model
Back
Sides
Jumbo (two-piece back)
2 x (580x210x4)
2 x (830x130x4)
Jumbo (three-piece back)
2 x (580x150x4) +
1 x (580x115x4)
2 x (830x130x4)
Classic (two-piece back)
2 x (550x190x4)
2 x (780x110x4)
Classic (three-piece back)
2 x (550x140x4) +
1 x (550x100x4)
2 x (780x110x4)
Modern
4 x (550x95x4)
2 x (780x110x4)
Other acoustic guitar parts
GUITAR FINGERBOARDS, HEAD PLATES, BINDINGS, BRIDGES, NECKS AND HEEL BLOCKS 

Sizes in mm; where possible, we cut wood to size to meet requirements

Fingerboards
550x75x9
Head plates
200x100x3
Bindings
830x40x3
Bridges
170x40x12
Tonewood for ukulele and lute
UKULELE SETS 

Sizes in mm

Soprano
2 x (115x310x4) + 2 x (70x410x4)
Concert
2 x (115x345x4) + 2 x (80x460x4)
Baritone
2 x (140x385x4) + 2 x (90x560x5)
LUTE SETS 

Sizes in mm

Tonewood for lutes
(Red or pink ivory, mopane)
12 x (700x60x4)
Recommended African hardwood for guitar
At ProSono, we recommend:
pink or red ivory for guitar
Pink or red ivory is popular with professional luthiers looking to create unique guitars with special appeal. The wood is known for its striking beauty, fine touch and sweet sound quality.
black chacate for guitar
Used by professional luthiers, black chacate is a high-density wood with a warm, rich sound. The darkest set are difficult to distinguish from African blackwood sets. It is finding increasing acceptance among professional instrument makers.
kiaat for guitar
This medium hardwood offers unique colouring and distinctive grain that makes each guitar an immediate success to the eye of many.
mopane for guitar
Mopane wood offers a rich, rounded tone – with exceptional balance between treble and bass – and warm, attractive colouring. This hardwood is popular with hobby guitar makers.
leadwood for guitar
African leadwood is a good choice of wood for hobby guitar makers. It is comparatively inexpensive and easy to work.
wenge for guitar
This medium hardwood is popular for its lighter sound quality and attractive aesthetic.
We also supply African blackwood (only for Ukulele, fretboards, headplates, bindings and bridge blanks). Also called grenadilla wood, African blackwood remains a favoured tonewood for many musical instruments. However, its availability is increasingly constrained.
Importance of slow expert drying of hardwood for acoustic guitar
African hardwood species like those we recommend must be properly rested and dried slowly. If this doesn't occur, backs and sides shall slit and become worthless.
In our experience, leading guitar brands tend to avoid these wood species. This is partly because they favour wood that dries fast and can be mass-produced and sold quickly. It's also because of negative experiences with wood that their suppliers have failed to process correctly, leading to substandard material.
For knowledgeable artisans willing to take the time, African hardwoods can yield outstanding results – provided they are properly processed!
Our process for drying tonewood
At ProSono, our strategy is to keep quality slabs drying on a permanent basis.
All hardwood species we supply are kept in slab form for a minimum of 18 months and up to 3 years, before slicing begins. Unless the proper slow drying of the slabs is respected, they cannot be sawn properly and the sliced parts shall warp.
As the leading South African tonewood supplier, this enables us to fulfil orders from luthiers based on well rested stock. For hardwood species in high demand, we keep a waiting list of up to two years and meet demand on a first come, first served basis.
How to choose wood for guitar back and sides
If you're not close enough to visit our showroom in person, let us know your requirements. Our sawmill manager will personally select backs and sides to try to match your needs.
We offer to email prospective customers a wide range of photographs of full guitar sets to choose from, each including images of two matching backs and two matching sides.
Be careful if a supplier shows only one of the sides in a set! Guitar sides are by far the most difficult parts to get clean and without defect. Interestingly, we have had numerous inquiries for sides only.
Delivery of guitar tonewood
We deliver retail orders of up to four guitar sets by air, as insured parcels. We have had only positive experiences using the International Postal Service (EMS), which delivers parcels to our customers' nearest post-offices.
For countries where the insured parcel service is not available, we use the UPS courier service.
We send wholesale orders by air freight. This is cheaper, although customers must then collect the orders at their nearest international airport.