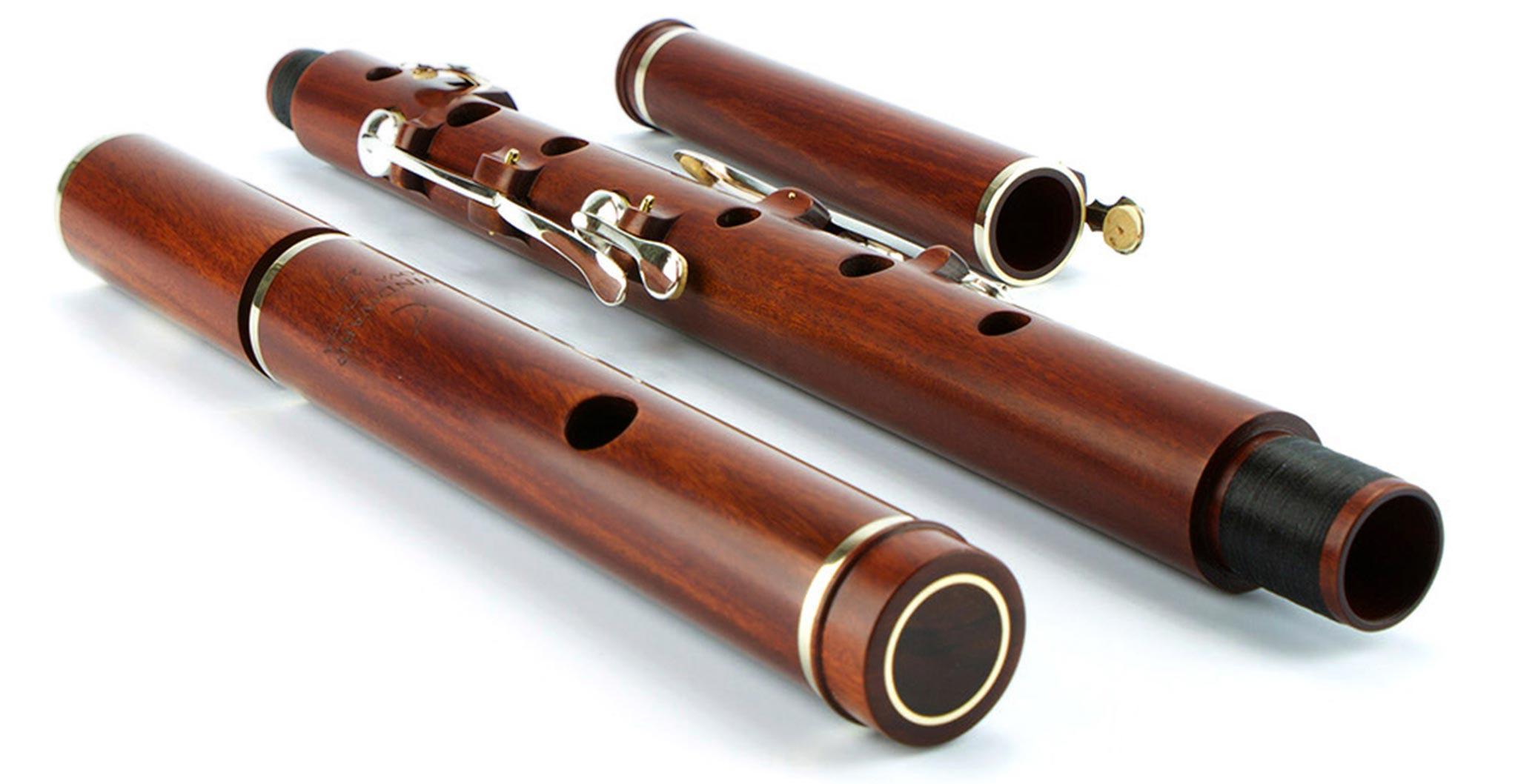 High-quality mopane wood for sale
Mopane is a hardwood from Africa, heavy, resistant and of low porosity, with exceptional tonewood quality.
ProSono is the main supplier of mopane for woodwind instruments, clarinets, oboes, English horns, flutes, piccolos and bagpipes.
We also offer mopane guitar backs and sides.
Mopane is considered by some, including Buffet Crampon – the leading manufacturer of professional clarinets – as the future of woodwind instruments. Buffet Crampon recently launched a mopane edition of its best-known clarinet models.
This opinion is shared by the German maker of the Uebel, gold clarinet, famous with jazz instrumentalists.
Characteristics of the mopane clarinet:
Comments by Nicolas Baldeyrou & Paul Meyer
The mopane clarinet is not limited in its use.
Nicolas used it as a soloist and in an orchestra, without any problem of projection in a large hall.
The mopane clarinet brings something else, a warm and mellow tone.
It can undoubtedly replace the African blackwood clarinet because it projects, it is stable and brings a different colour.
The mopane offers a unique advantage, when the instrumentalist is forced to play something powerful, nervous, acrobatic. The mopane takes it, no saturation.
The mopane instrument is suitable for all types of music classic, modern and jazz.
This instrument blends perfectly with the orchestra, which is not always the case with the grenadilla.
See below for more details of mopane billets and sets that we do our best to keep in stock (dry wood, free of tension).
Characteristics of mopane
Botanical name: Colophospermum mopanie
Local terminology in the countries of origin: mopane, mopanie
Average dry weight: 1.3 kg / dm3
Hardness: 15,060 N on the Janka scale
Even grain pattern
"I played three sets of Scottish bagpipes. I confirm the sound is warm and mellow. During the turning I noticed that very few defects, the wood remains very stable. The stability is undoubtedly superior to the African blackwood."
~ John Walker
Mopane parts we endeavour to keep in stock
For mopane woodwinds
Clarinet sets
Bells
85/85 x 45/45 x 130
Lower joint
40 x 40 x 320 or 40 x 40 x 285
Upper joint 
40 x 40 x 245 or 40 x 40 x 230
Barrel
51 x 51 x 80 or 43 x 43 x 80 or still 40 x 40 x 80
Bass Clarinets

40 x 40 x 780 ; 40 x 40 x 760 ; 40 x 40 x 720

or

51 x 51 x 700 and 51 x 51 x 550

Alto Clarinets
40 x 40 x 460 or 40 x 40 x 410
Oboes
Bells
65 x 65 x 150 or 60 X 60 x 140
Joints
40 x 40 x 285 or 36 x 36 x 270 or still 32 x 32 x 265
English horns
Bells
70 x 70 x 140
Joint
40 x 40 x 410
Flutes

33 x 33 x 380 or 33 x 33 x 330

or still 33 x 33 x 265

30 x 30 x 510 or 30 x 30 x 410

or still 30 x 30 x 325 and 30 x 30 x 300

28 x 28 x 410 or 28 x 28 x 325

or still 28 x 28 x 270

Piccolos
28 x 28 x 250 + 30 x 30 x 150
Highland bagpipes
(HBPs) 14 mopane blanks of 11 different sizes, representing a total of 6.755 dm3.

1 X 54 x 54 x 305 + 2 X 51 x 51 x 225 + 1 X 43 x 43 x 385 + 1 X 47 x 47 x 310 + 1 X 47 x 47 x 195 + 2 X 47 x 47 x 160 + 1 X 47 x 47 x 125 + 1 X 47 x 47 x 115 + 1 X 40 x 40 x 310 + 2 X 40 x 40 x 245 + 1 X 40 x 40 x 220

For mopane for Uilleann pipes (Irish pipes), English pipes, gaitas (Spanish pipes) and bombarde (French pipes), our page on pipes and folkloric instruments provides exact dimensions.
For stringed mopane instruments
Jumbo

Back: 2 x 560 x 210 x 5

Sides: 2 x 830 x 130 x 4

Classic

Back: 2 x 530 x 190 x 5

Sides: 2 x 760 x 110 x 4

Modern

Back: 4 x 530 x 95 x 5

Sides: 2 x 760 x 110 x 4
Botanical name
Colophospermum mopane
Family
Fabaceae
Local name
Mopanie
English name
Mopane
Distribution
Northern Province of South Africa, Malawi, Zambia and Zimbabwe.
The tree
In more humid regions, the mopane tree grows up to 30 meters in height and 90 cm in diameter. In dry regions, it grows to about half this size.
The wood
Mopane heartwood is brown to reddish-brown, with darker streaks. Mopane sapwood is yellow to light brown. The wood is very hard and heavy, and is termite resistant. Mopane wood's air dry density is 1.3 t/m3 (77 lb/ft3).
Seasoning
With slow drying, mopane doesn't split or slit easily. The light oily content of the wood might explain this valuable characteristic.
Workability
Mopane is very dense but works well with the appropriate tools. It also glues well.
Use
Mopane has been used for many years for flutes, piccolos and other woodwind instruments. Its high density and good workability make it an attractive alternative to blackwood, especially in very dry or humid countries, where blackwood has a tendency to slit.

It is also used for high-quality mopane furniture and inlays in light-coloured wood.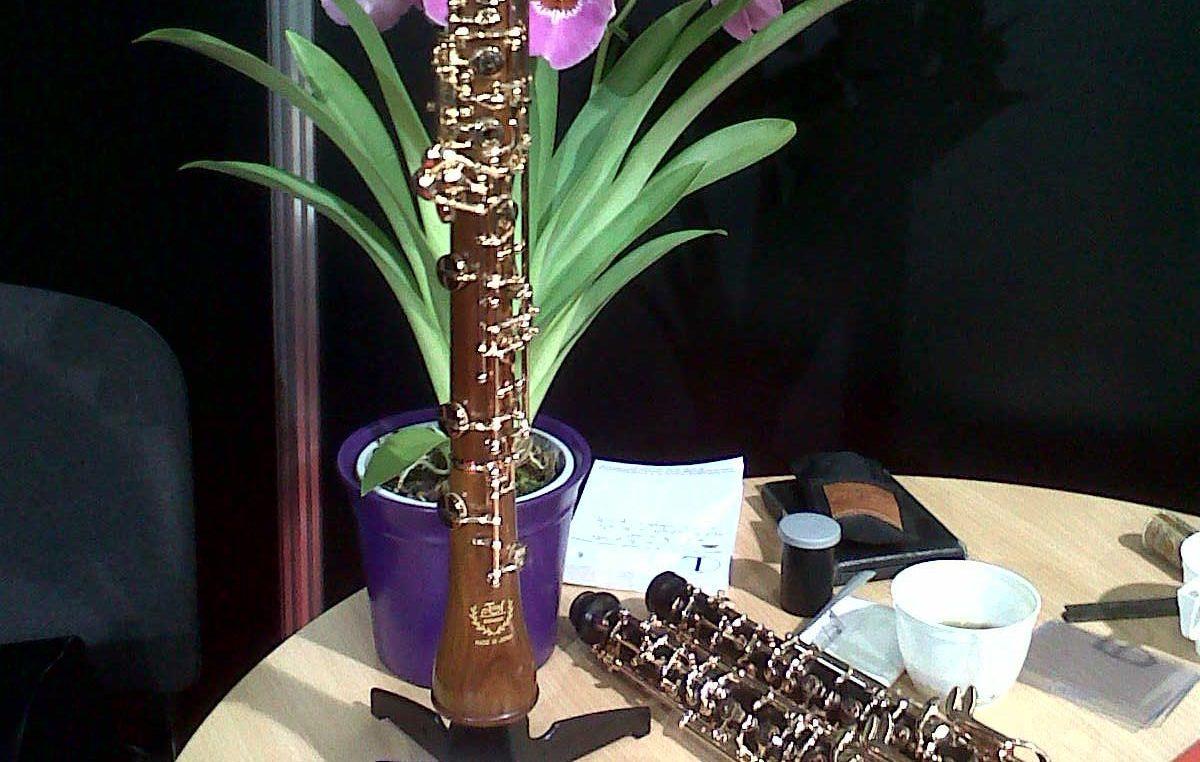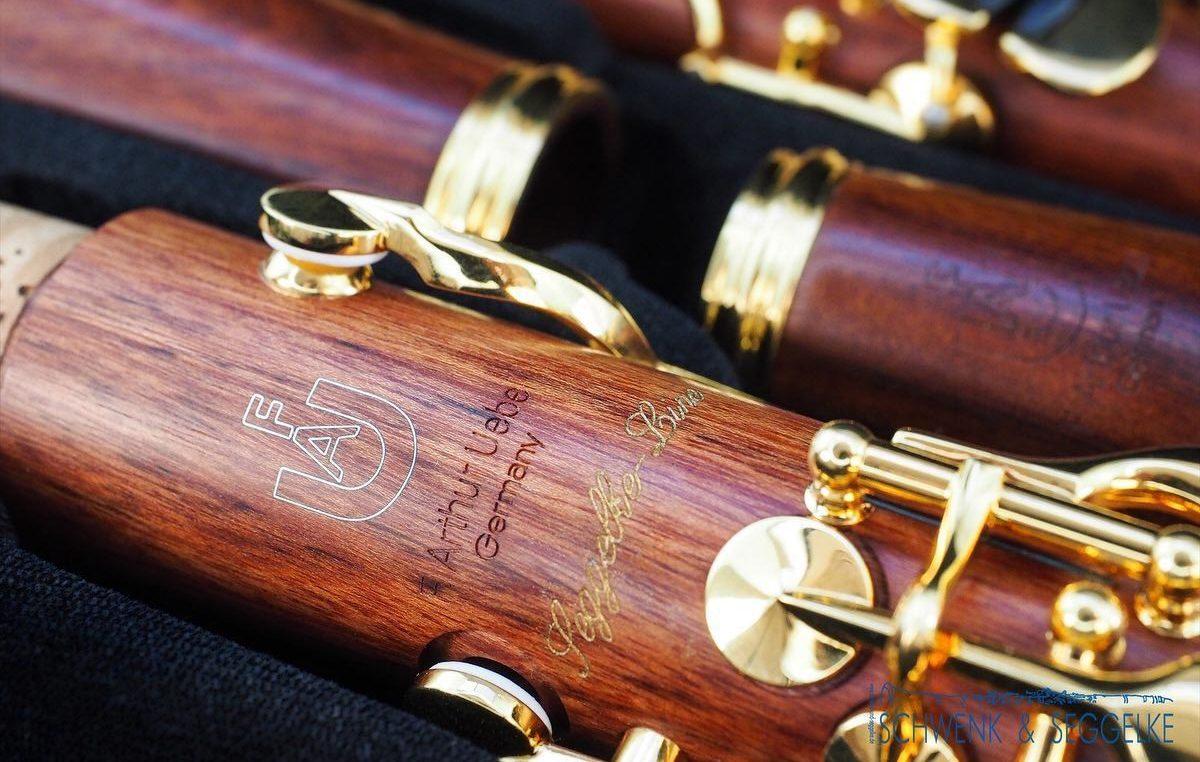 Mopane for flutes and other woodwind instruments
Mopane has been known for decades as an ideal wood for flutes.
The tone of mopane is as rich and powerful, and a little bit warmer, than that of African blackwood. Flute makers identify its tone as similar to cocuswood (once a preferred wood for flute making but now almost unobtainable).
Increasingly, mopane is also being recognised as an ideal hardwood for clarinets, oboes, bass-clarinets, bagpipes and other woodwind instruments.
Well-known clarinet makers describe it as having a sweet tonality, typical to the clarinets made by Schreiber, a German leader in musical instruments.
For interest, a link to a mopane flute performance, on a flute made by Windward Flutes (one of our customers): https://bit.ly/MopaneFlute-WayfarinStranger
Mopane technical characteristics
Mopane offers incredible stability.
After two years of use and despite the winter, the heating, the change in humidity, the wood has not moved.
We checked the drilling, nothing moved, no tuning required for the clarinet, which is often the case with other woods. Unbelievable, a definite advantage, the stability of mopane wood.
Tone
The tone of mopane is as rich and powerful as African blackwood.
The mopane is warmer and softer.
The mopane brings something else. Its selection shall depend on the instrumentalist and his or her taste.
On the other hand, the mopane offers instruments which are not saturated by powerful, nervous, acrobatic sounds, ideal for jazz and modern music.
Increasingly, mopane is also recognized as an ideal hardwood for oboes, bass clarinets, bagpipes, and other wind instruments.
Flute makers identify its tone as similar to coccus wood (once a favourite wood for making flutes but now unobtainable).
Our quality process as a supplier of musical-grade mopane wood
As a supplier of mopane tonewood, our quality requirements are very strict.
Our suppliers are selected based on their concession and their annual authorised cutting volume. We ensure a perennial harvest. We have no less than three sources of mopane, geographically distant from each other.
Our quality process begins with the training of personnel and the selection of trees suitable for forest felling.
Our on-site presence, with continuous supervision by competent, trained and motivated staff, is the only way to achieve consistency of results in African field conditions.
In our factory, operations are planned and monitored for the best results and the best quality. All parts are checked at the time of storage and again before packing.
Our prices depend on the number of pieces and the composition of each order. We consider the recovery percentage that is achieved for each order. As a result, we are the most competitive when sets of billets are ordered.
The concessions and the annual cutting permit determine each year the volume of wood that can be harvested.
We do not accept oversized orders that would result in reckless cutting and consequently do not offer discounts for oversized orders. This places the small business and the craftsman in a competitive position for its management and financing of stock.
Compared to African blackwood, or grenadilla, mopane offers:
greater availability: unlike grenadilla, mopane is not listed as an *endangered species (CITES2)
a musical tone unmatched by its flexibility
a warm and attractive aesthetic quality
better workability: mopane is significantly less prone to cracks during machining, and cracks during use.
better storage stability: mopane instruments have demonstrated their stability even under temperature and humidity changes.
*African grenadilla is listed as endangered by the Convention on International Trade (CITES). The availability of logs of sufficient sizes and above all sufficient quality makes the recovery of essential parts such as bells, chanters, and drones very difficult or even utopic.
Four clarinet makers, and three oboe makers, one bagpipe maker, many flute makers have been purchasing increasing volumes of mopane sets from us, one of them for over ten years.
We believe that those who have taken the opportunity to use the mopane are ahead of the competition, at least in their availability of dry, tension free wood; an essential component for the manufacture of quality instruments.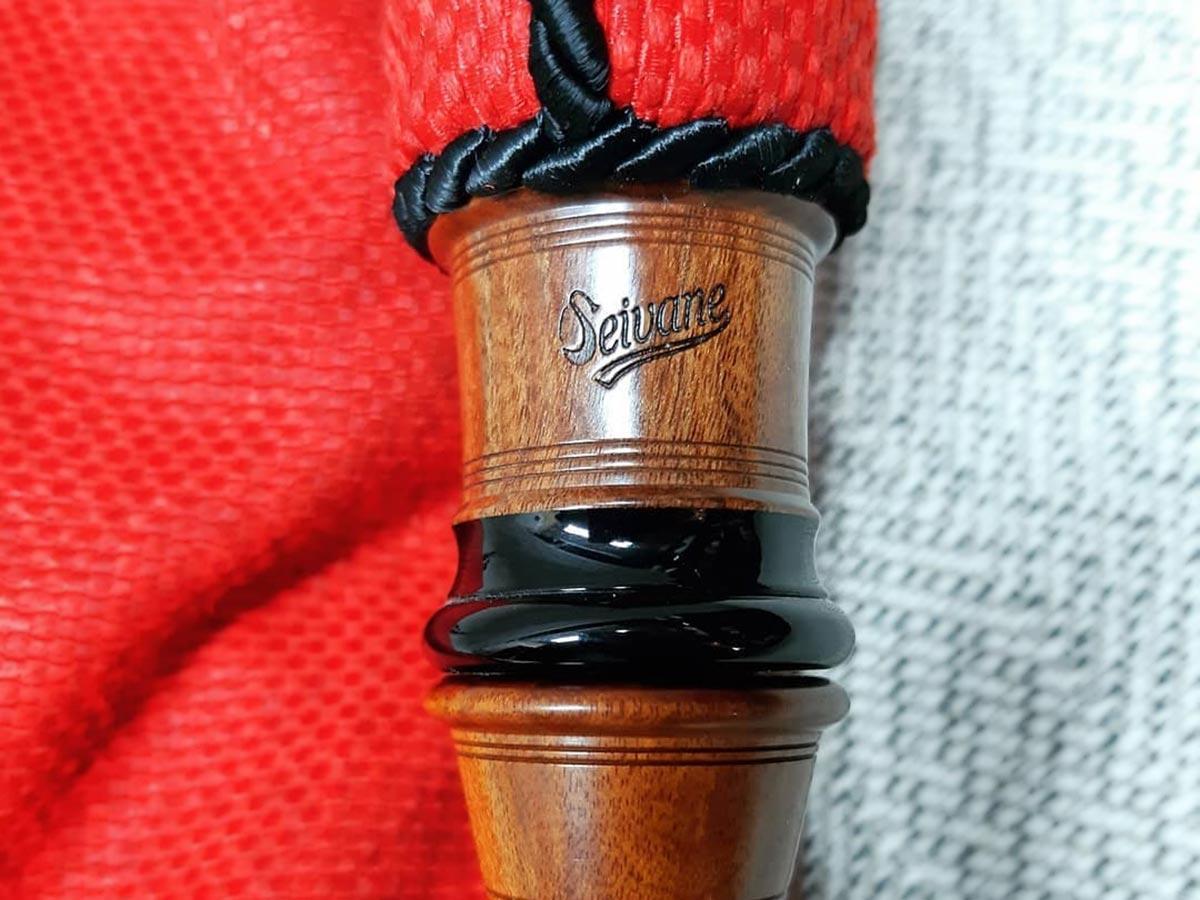 Modern music: Jochen Seggelke (a customer of ours):
Traditional Classical Oboe: Musik Josef (a customer of ours):
Dirk Altmann playing on Basset Clarinet made of Mopane: