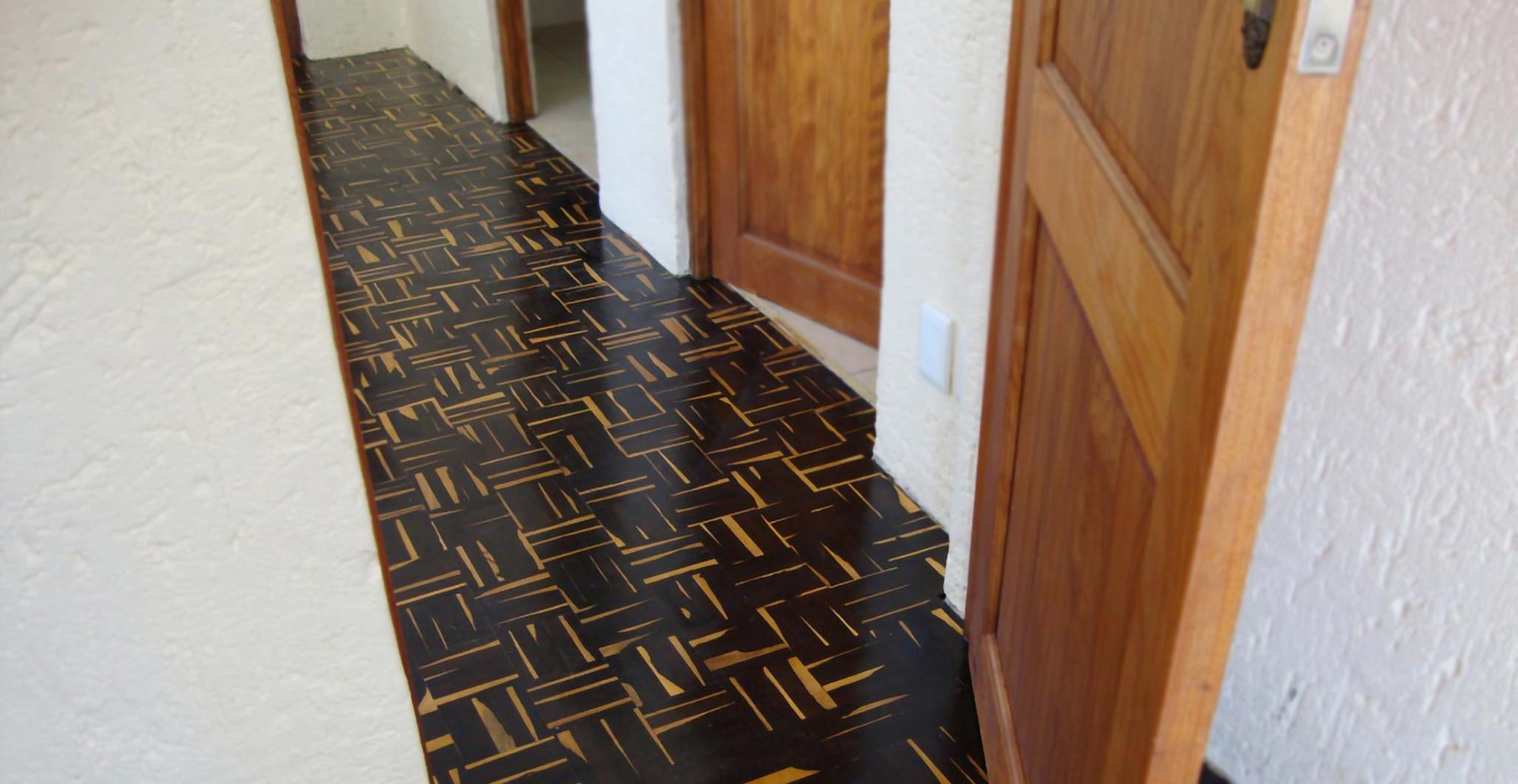 Solid wood and parquet flooring in exotic hardwood
ProSono offers solid wood flooring and parquet flooring crafted from precious African hardwood.
Our exotic wood flooring…
is handmade, unique and beautiful to look at
can be customised, with a choice of hardwoods and patterns
adds significant value to any dwelling
will last a lifetime (or several lifetimes!).
We offer truly exceptional value. This is because we sell substantial quantities of very high-quality hardwood parts for use in manufacturing musical instruments. The cost of the hardwood itself is borne entirely by this side of our business. This means we're able to offer exotic hardwood flooring at much lower cost than would otherwise be possible.
Our leading hardwood for flooring is ebony, from the Pharaohs – either all black or incorporating 25% or more of light-coloured ebony sapwood.
Our wood flooring is also available in mopane, red ivory and African cocobolo, although availability of these wood species is limited. Mopane and red ivory are often used in parquet flooring tiles, to create striking wood flooring with mosaic patterns.
Solid hardwood flooring | Parquet hardwood flooring
The table below lists the different precious hardwoods we supply as flooring (subject to availability), as well as standard motifs for our mosaic parquet flooring.
We also offer custom wood flooring patterns. Don't hesitate to contact us with your own floor or logo design.
Solid hardwood flooring 

Hardwood

Presentation

Mopane flooring

Blood red when fully oxidised

Ebony flooring

Black with dark brown streaks

Red ivory flooring

Distinctive rosé wine colour

African cocobolo flooring

Rustic brown with a distinctive, pleasant wood smell

Parquet (mosaic) wood flooring: standard motifs.
Parquetry patterns and wood combinations

Presentation

African cocobolo with sapwood

Rustic brown with very distinctive yellow sapwood

Ebony frame

Alternate colours, inner and outer squares

Ebony with sapwood

Black with yellow streaks from the sapwood

Haddon Hall parquet flooring (ebony/mopane/ebony or mopane/ebony/mopane)

Alternate colours in a zigzag pattern

Herringbone parquet flooring

Alternate colours on the diagonal

Mopane frame

Alternate colours, inner and outer squares

Mopane with sapwood

Red with light red from the sapwood

Small checkers; ebony and mopane

Combination of elegant black and reddish brown
Solid hardwood flooring
Our solid wood floor tiles are made of 8 mm (5/16") thick hardwood, dried to the point where it has moisture content of 6% to 9%.
We offer five- and six-finger combinations, in one of four tile sizes:
250 x 250 mm
280 x 280 mm
300 x 300 mm or
360 x 360 mm.
Tile sizes used will depend on the chosen floor pattern or design.
Mosaic parquet flooring tiles
Mosaic parquet flooring combine fingers of hardwood into attractive patterns. The fingers of wood are perfectly planed and carefully assembled by hand.
To create patterns that incorporate different colours or shades, the flooring combines either:
heartwood and sapwood of the same hardwood species (depending on the species, these may be strikingly different in colour)
more than one hardwood species.
3M removable adhesive paper is placed on top of the assembled hardwood tiles. It is removed by the flooring installer when the glue is dry. This ensures the very best adhesion of the hardwood floor and the screed.
Durability of wooden parquet flooring
Parquet floors made of exotic woods have very high resistance to abrasion. They will last a lifetime, even in high traffic areas.
Because our parquet wood tiles are 8 mm thick, they can be sanded many times over.
Parquetry patterns for wood floors
The Haddon Hall parquetry pattern consists of multiple squares, each created using a number of rectangular wood fingers. This traditional geometric design is named after a countryside manor in England, built in the 11th century.
In herringbone pattern flooring tiles, two rectangular wood fingers are pieced together at 90-degree angles. Another two fingers are pieced together at the same angle and then nested within the angle created by the first pieces. This is repeated, creating a pattern similar to the bones of a herring.
A variety of other parquetry patterns – for example, chequerboard, chevron, the classic Versailles flooring pattern or a custom design – can also be created.
For those living close by, our show room is in Fourways, north of Johannesburg. Please arrange a visit to view our exotic hardwood flooring. Our office number is (011) 516 0252 or contact us via cell phone on 082 652 0747.