At ProSono, we supply Southern African tonewoods for stringed instruments, including acoustic guitars, ukeleles and lutes.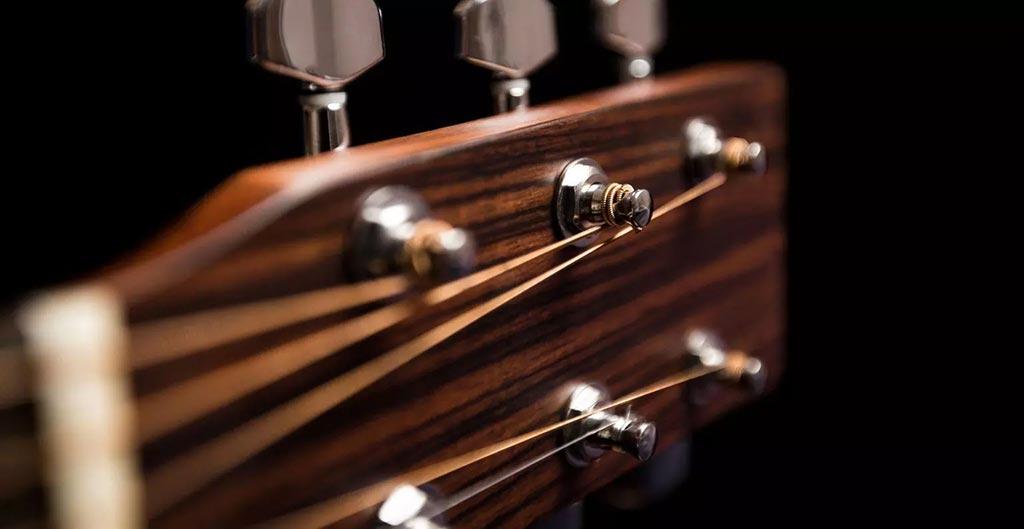 A range of African hardwoods, from red ivory to kiaat, offer uniquely beautiful aesthetic and tonal qualities. Provided these hardwoods are slowly and suitably air dried, they also offer good workability and excellent stability over time.
In this article, we outline some basics to consider when choosing tonewood for stringed instruments. We also profile some of our favourite African tonewoods for acoustic guitar.
Two main categories of tonewood for stringed instruments
Soundboards (or top plates) and frameboards (or back and side plates) call for materials with different acoustic properties, and therefore different woods.
Tonewood for soundboards
Soundboards are generally, although not always, made from stiff but light softwoods.
For example, we offer soundboards made of Swiss moon spruce (also called Swiss Alpine spruce).
Tonewood for frameboards
Frameboards are usually made from specific hardwoods, which offer suitable density and stability.
For a much more technical discussion, see this study on the acoustical classification of woods for string instruments.
What's involved in sourcing the best possible tonewood for stringed instruments
Finding the best tonewood depends on finding the best suppliers. This is because it's not just the wood species that counts.
The way the wood is processed is critical to its performance.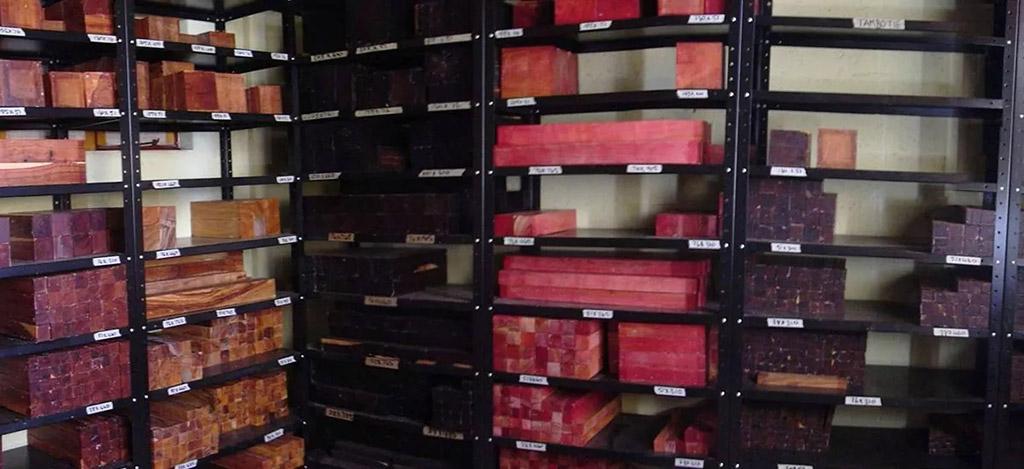 Getting ideal hardwood for guitars and other stringed instruments involves:
careful harvesting of the right trees, by species and to obtain sufficiently large, straight pieces
resting of the wood and slow air drying in a temperature and humidity-controlled environment (we disrecommend kiln-dried wood for instruments; it is much more likely to split or crack when worked)
professional grading and radial cutting into matching back and sides, with even grain structure and the lines formed by the year-rings parallel on the surface
waxing of ends and expert packaging, to ensure safe arrival.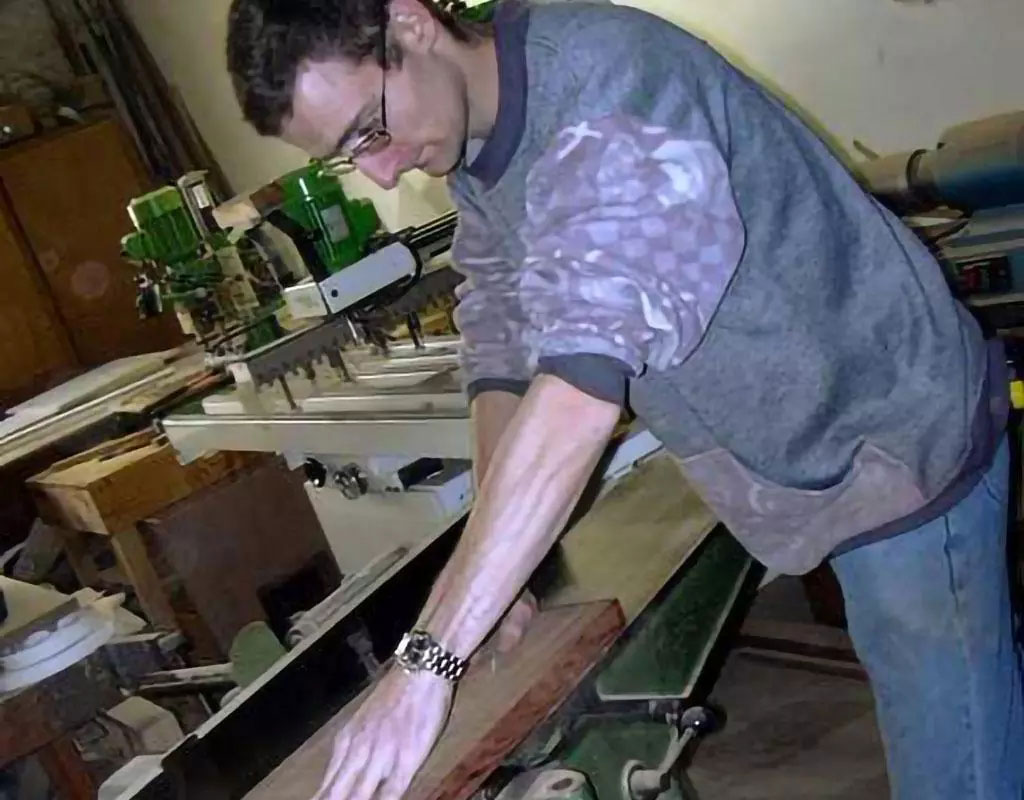 Traditional and alternative woods for stringed instruments
Traditional wood choices for soundboards include spruce, koa, mahogany or cedar.
For guitar back and sides, some traditional choices are maple, rosewood, walnut, koa or mahogany.
As the supply of certain traditional woods dwindles, alternative woods are gradually gaining popularity.
Experimenting with different tonewoods can yield new discoveries, as well as unique, pleasing instruments.
Some of our favourite African hardwoods for guitar
We recommend the following African hardwoods for acoustic guitar.
Red ivory
Pink or red ivory is popular with professional luthiers looking to create unique guitars with special appeal. The wood is known for its striking beauty, fine touch and sweet sound quality.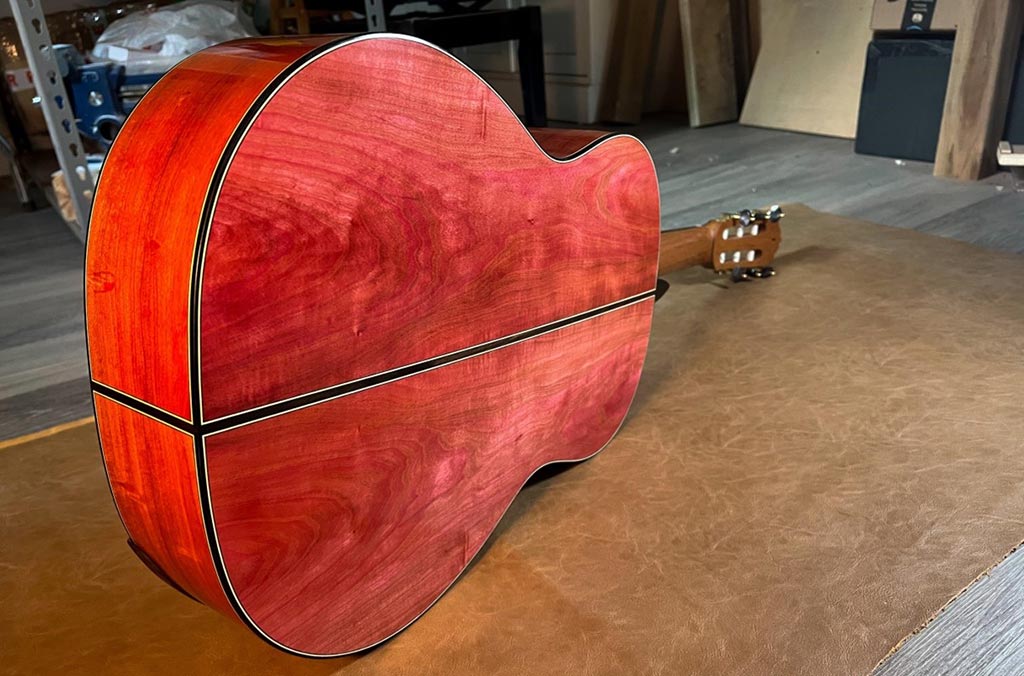 Black chacate
Used by professional luthiers, black chacate offers warm, rich sound.
Black chacate varies in colour from golden to chocolate brown. The darkest sets are similar in appearance to African blackwood sets.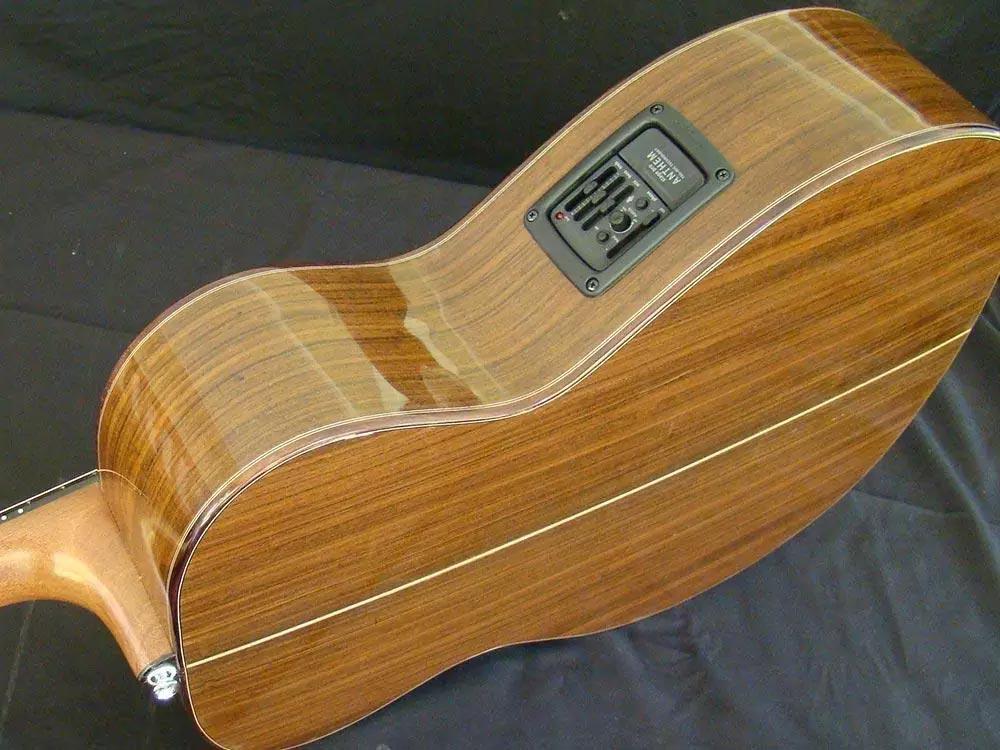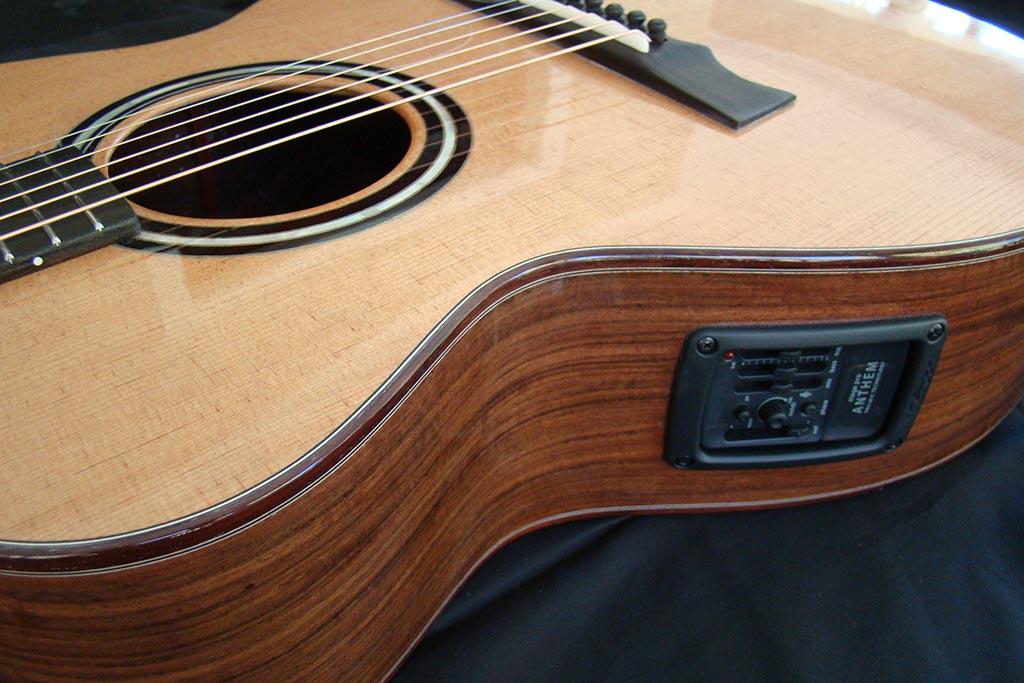 Kiaat
Known for its strength and durability, kiaat is a medium hardwood that works well. It offers excellent stability and a resonant "tap tone". It ranges from golden to medium brown and has pronounced grain patterns, which may be straight, wavy or interlocking.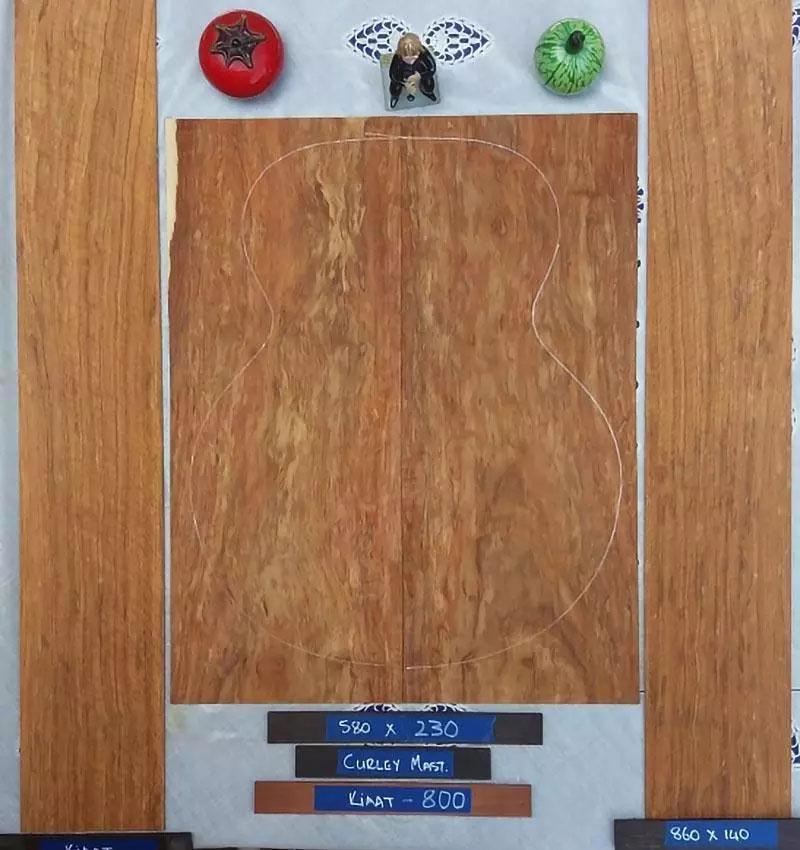 African leadwood
Also called elegant wood when it is of musical grade, this hardwood is an excellent choice for hobbyist guitar makers. It is easy to work and comparatively inexpensive.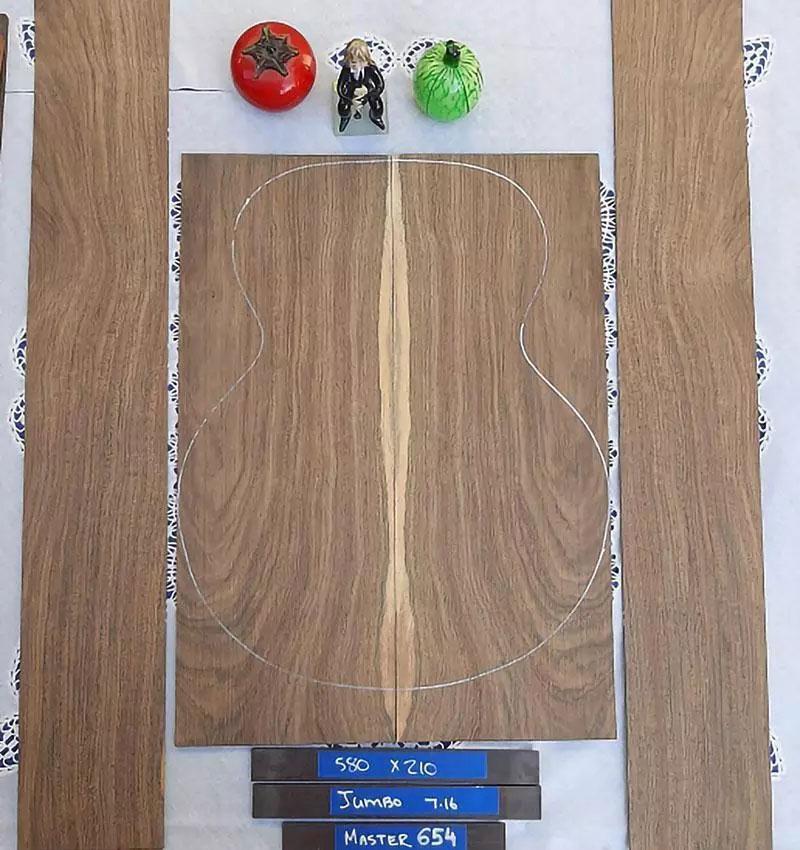 Wenge
Wenge is a medium hardwood that's popular for its resonant sound quality and attractive light colouring.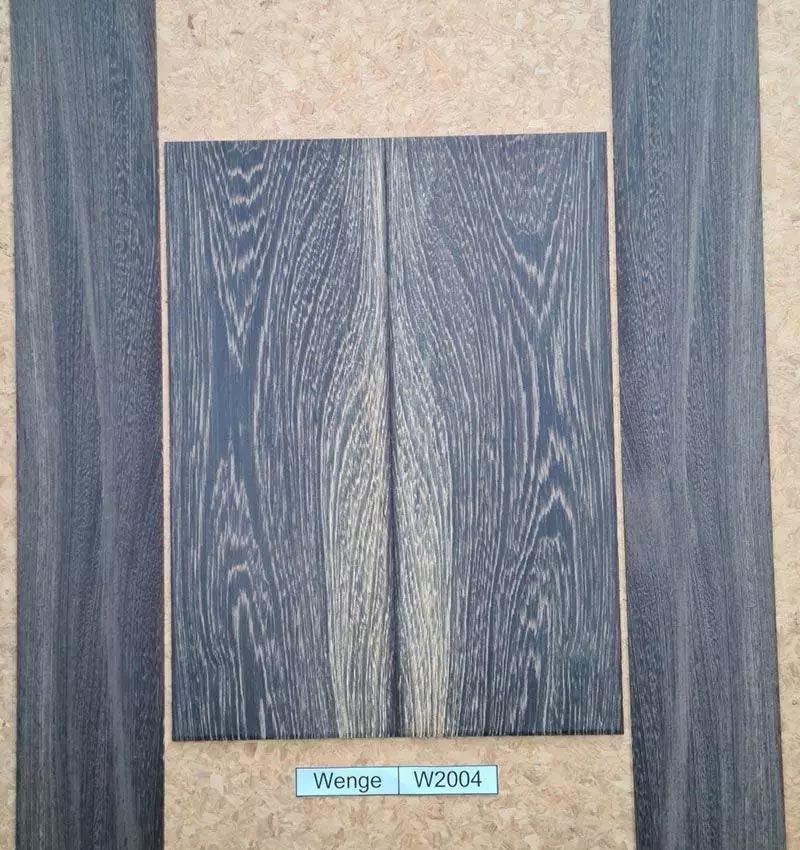 Curly sapele
Curly sapele shines to a high lustre and has a fine, uniform texture with distinctive, often wavy grain patterns. It is popular with luthiers as a sustainable alternative to mahogany, offering similar tone, colouring and density.
Tonewood for classical stringed instruments
Spruce, maple and ebony are the traditional woods of choice for making fine violins, violas and cellos. For back and sides, rosewood, mahogany, maple, poplar and walnut are also fairly common.
To our knowledge, ProSono has never supplied customers with African hardwoods for double bass, cello, viola or violin (with the exception of some Madagascar ebony fingerboards).
As certain tropical woods become scarce or protected, however, classical instrument makers are experimenting more with alternatives – from synthetic materials to more sustainable woods.
For example, wood scientists at Stellenbosch University in South Africa recently helped create violins from indigenous African woods, including Knysna blackwood and West African sapele.
Greater diversity in wood choices reduces stress on any single wood species. It can also provide instrument makers with more cost-effective choices.
Supplier of superior African tonewood for stringed instruments
ProSono is a trusted international supplier of high-quality African tonewood for musical instruments. The tonewood we offer is ethically and carefully sourced, very slowly air dried and cut to required dimensions.
See our page on tonewood for acoustic guitar for details of the guitar sets and parts we offer – and for references from our customers around the world, please see our Customer Reviews page.