At ProSono, we offer high-quality, processed African leadwood for flutes and other musical instruments. We're pleased that this hardwood is fast gaining acceptance among musical instrument makers.
We believe that much like mopane, it offers a valuable, sustainable and pleasing alternative to African blackwood (grenadilla), which is increasingly difficult to obtain from a legal source.
In recognition of its musical and aesthetic qualities, we refer to our African leadwood for musical applications as the "elegant wood."
In this article, we cover:
Reaction to African leadwood for flutes and whistles
Provided it is carefully selected and processed, African leadwood makes ideal tonewood for a range of musical instruments. Among these are flutes, whistles and other folkloric instruments.
For many years, Peter Aschenbrenner of PA-Music has been crafting beautiful wooden flutes and Irish whistles.
We thoroughly recommend having a listen to Peter – who is also an accomplished musician – playing the following pieces on a Low Whistle in D, made of African leadwood:
About the workability of African leadwood/elegant wood
Peter offered us useful feedback about the suitability of African leadwood for flutes and whistles. These are his comments about the workability of the wood:
"The processing of the elegant wood works well – good machinability; can also be drilled well.
Due to its hardness, exact edges can be produced well, and fits are easy to achieve. These properties are quite comparable to other musical woods such as mopane and grenadilla.
The surface is easy to polish, although some pieces have somewhat pronounced grooves (depressions) in the grain that remain even after polishing. Overall, the grooves/pores are more of a visual question; technically, it has no effect."
About the sound qualities of African leadwood/elegant wood
Peter offered this feedback about the musical qualities of elegant wood:
"The sound is also very good, clear response and a powerful tone. Also in this respect comparable to other precious woods. Not as dark and warm in sound as mopane and not quite as rich in overtones as grenadilla. For me a pleasant, clear tone with scope quite a bit of its own."
African leadwood for other musical instruments
For clarinets
Our elegant wood is in increasing demand for classical wind instruments like clarinets and oboes.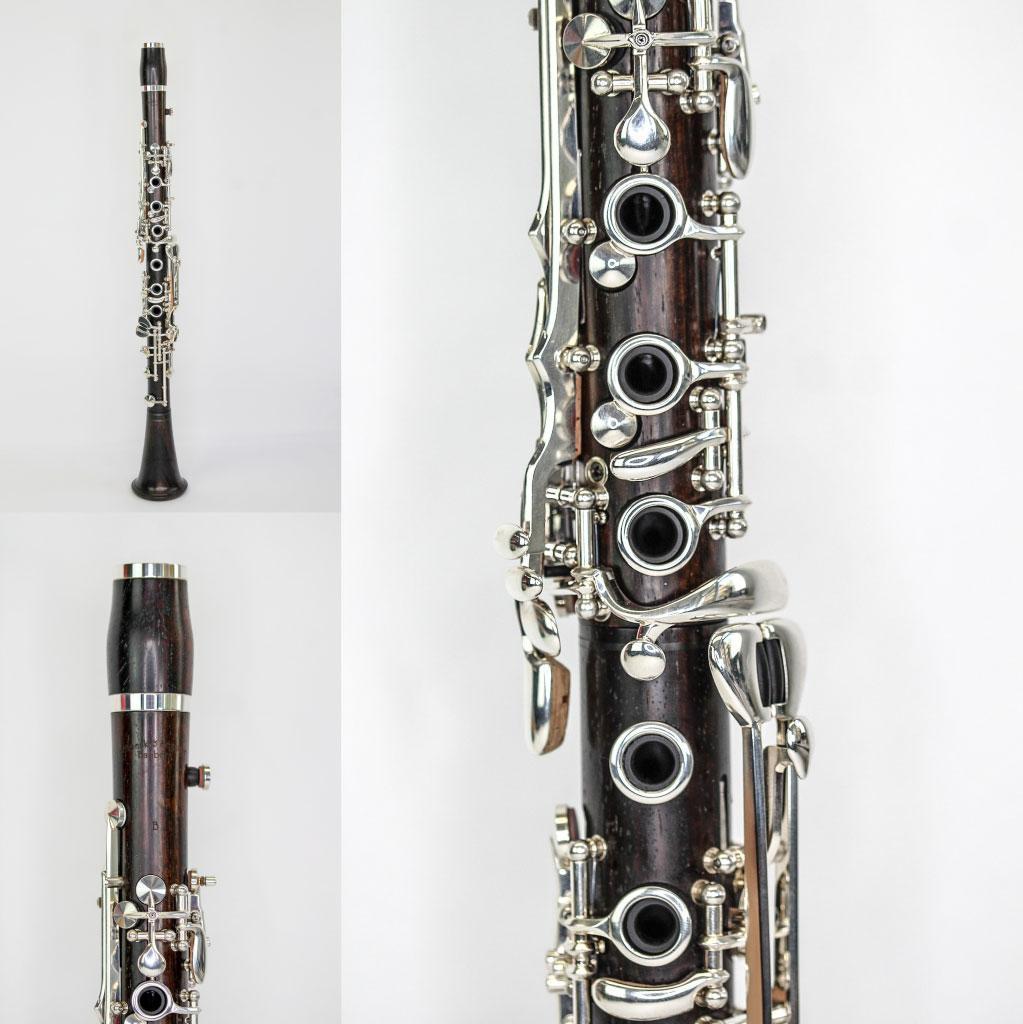 About the use of leadwood for clarinets, Jochen Seggelke of leading clarinet manufacturer Schwenk & Seggelke had this feedback for us:
"…it is becoming apparent that we will order this wood regularly."
"…I am pleased that you have again succeeded in identifying a type of wood that is ideally suited as a tonewood for woodwind instruments! The resulting diversity takes the pressure off one type of wood and shows that musical sounds do not have to be uniform – I see that as a mandate and we want to help promote tonal and botanical diversity!"
For bagpipes
African leadwood is also gaining recognition among bagpipe makers. Shown here, beautiful bagpipe parts crafted in France from African leadwood (left) and mopane (right).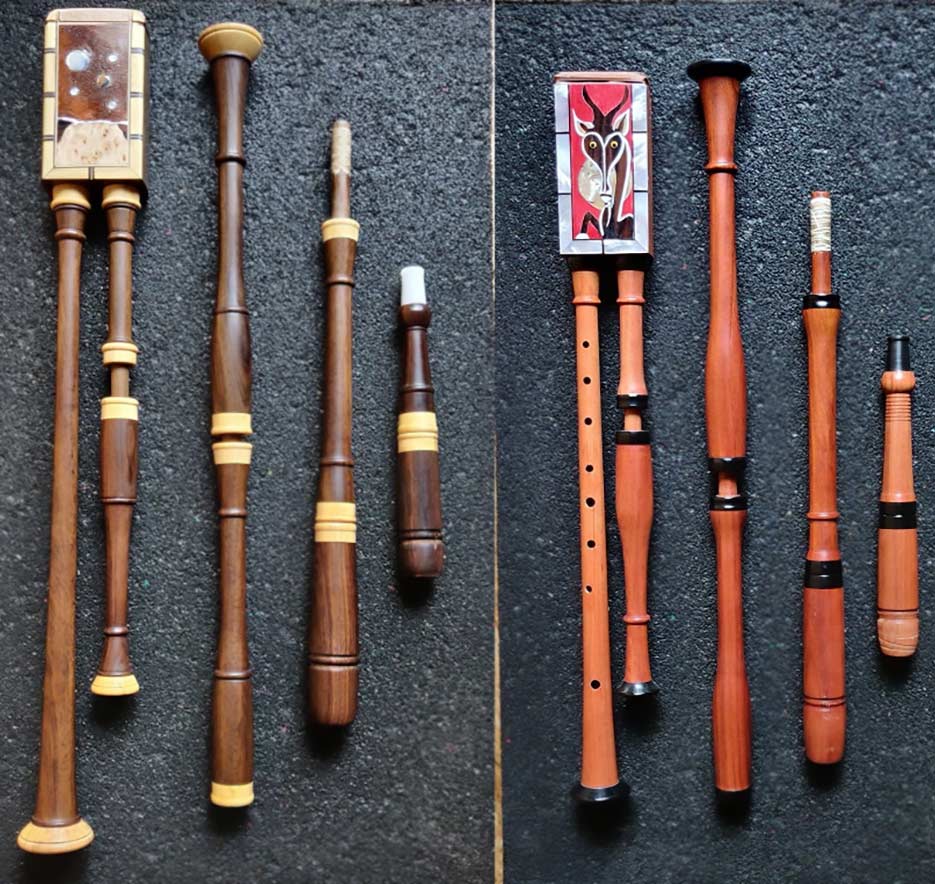 Characteristics of African leadwood/elegant wood
African leadwood (Combretum imberbe) is an extremely hard, dense wood with low porosity.
Because the wood is so hard, it is best cut in stages – first into slabs on a bandsaw and then into parts using tungsten-tipped blades. It turns and works well with a chisel, has a fine grain and offers a silky, glossy finish.
Once sanded and oiled, the wood is very similar in appearance to African blackwood. It also offers similar sound qualities.
At ProSono, only the highest quality leadwood makes the grade as musical wood, or elegant wood. It is meticulously selected, cut and dried – a process that takes many months to years.
A few "fun" facts about African leadwood
Some interesting facts about African leadwood:
it is one of the only wood species that sinks when thrown in water
dead leadwood trees can remain upright for as long as 80 years
the Hereros and Ovambos of Namibia regard the African leadwood tree as a home for the ancestors; this explain the tree's German common name of "Ahnenbaum", or ancestor tree.
CITES status of African leadwood
African leadwood is not listed as endangered by CITES but is a protected species in South Africa. This means that harvesting of the wood is controlled and subject to permits.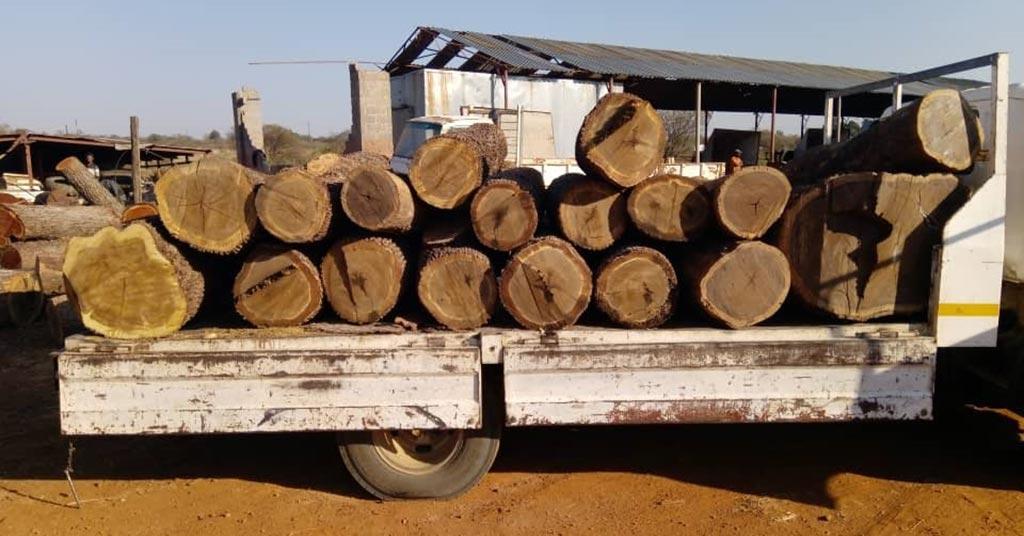 At ProSono, we are committed to sustainable, ethical harvesting of hardwood. We comply fully with all local restrictions, ensure that our suppliers have permits and are highly selective in the leadwood we harvest. More details about what we stand for are available on our site.
Contact us for more information about African leadwood for flutes and other instruments, or to discuss your hardwood needs.